AHP Equine Media Conference ~ Lexington, Kentucky ~ May 28-30, 2020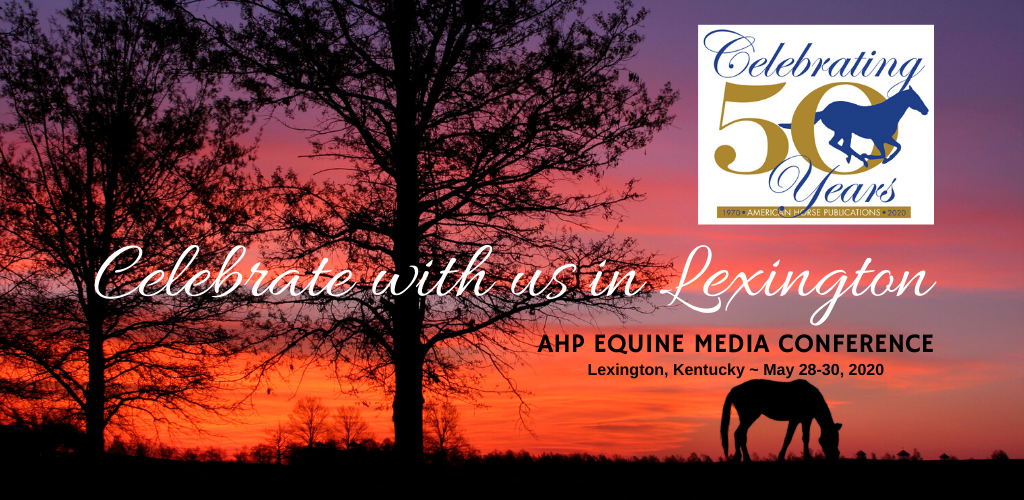 Experience real time learning • celebrate equine media history • connect with your peers in the Horse Capital of the World
Fifty years ago, several publishers of horse magazines gathered in Lexington, Kentucky to establish American Horse Publications. Their mission was to provide an organization where publishers and staff could learn from others as well as grow the horse industry. In 2020, AHP members return to Lexington, Kentucky for a three-day equine media event jam-packed with educational sessions, special events, and lots of face-to-face networking time.

This is an opportunity to devote time on advancing your professional career and bonding with others who love the horse industry as much as you do. As an attendee, you will experience multiple educational sessions and events targeted at connecting you with equine media, providing an environment for learning, and preparing you to navigate the new frontier in equine media.

The Equine Media Conference is the number one place to network with publishing media professionals, freelance service providers, and businesses related to the horse and publishing industries. Let's keep equine media strong!
And what a horse lovers destination!
The Horse Capital of the World is a mecca for horse lovers and the list of reasons why Lexington earned the name is very long.  AHP members who call the Lexington area home are thrilled to have the AHP 50th Anniversary Celebration held in Lexington during the Equine Media Conference. Watch their video inviting you to attend.

Visiting Lexington is always a reason to come early, stay later and spend time researching stories, visiting the many horse farms and equine-rated facilities, or exploring the Bourbon Trail. You won't want to miss the Insiders Tour of Bluegrass Horse Country on Thursday, May 28.
LEARN MORE about attending the 2020 Equine Media Conference & 50th Anniversary Celebration.
Attendance is open to AHP members only. Not a member? JOIN TODAY! click here to learn more about becoming a member.
Featured events...
DONNA BARTON BROTHERS, well known for her NBC Sports coverage of the Triple Crown and Breeder's Cup, presents the keynote address on Thursday, May 28 during the 2020 AHP Equine Media Conference in Lexington, Kentucky.
Brothers has also covered the Hambletonian Stakes, the Kentucky Three Day Event, the World Equestrian Games, the AQHA World Championship Show, and Professional Bull Riding (PBR).
She was born with racing in her blood. In 1969 her mother, Patti Barton, was one of the first half-dozen women to be licensed as a jockey in the United States and she went on to become the leading female jockey in the U.S. throughout all of the years of her career. Brothers went on to become a jockey as well, retiring in 1998 as the second leading female rider in the nation by money earned.
Brothers is also passionate about thoroughbred aftercare and has been on the Advisory Board of the TAA since its inception and is now on their Executive Board. She has recently joined the Thoroughbred Safety Coalition leadership team as its strategic advisor.
RYAN DOHRN is the founder of media sales training firm Brain Swell Media and has trained over 15,000 ad sales reps in seven countries.  He is a long-time AHP member and raises AQHA horses with his wife of 24 years.  Dohrn sells media every day and has been a part of over $500 million in media sales. He currently works monthly with over 50 media companies and their related sales and management teams.
Dohrn presents two morning sessions on Friday, May 29. He shares his brand new, six-step sales call process that's focused on closing business - on the first call in "The Ultimate Sales Call Road Map"  He will follow with "Grow Your Business, Become a Networking Superstar," a session on making money, selling yourself, and improving your networking skills for building relationships.
AHP 50th Anniversary Party
Celebrate the 50th Anniversary of American Horse Publications with us on Friday night, May 29. To learn about AHP history and Lexington, Kentucky in preparation of the milestone event, read the 50th Anniversary Blog, a collaboration of memories and stories by AHP members, past and present. READ THE BLOG
AHP Equine Media Awards Dinner & Presentations
On Saturday, May 30th, AHP members gather to honor the winners in AHP's annual competition which has been held since 1974.
For more information, contact: Chris Brune, ahorsepubs@aol.com, (386) 760-7743