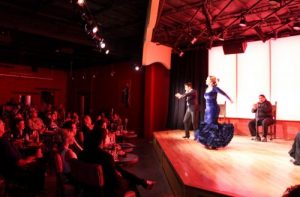 At Tablao Flamenco Albuquerque, the passion and energy of flamenco come alive nightly as you experience flamenco in its most intimate, powerful setting in the heart of historic Old Town Albuquerque.
Featuring a world-class line-up of artists, the Tablao Flamenco presents a dynamic schedule of performances, featuring the premier artists from Spain and the United States.
Through a unique partnership based on cultural preservation, Heritage Hotels and Resorts and the National Institute of Flamenco have joined efforts to create Tablao Flamenco Albuquerque. Proceeds from the Tablao support the National Institute of Flamenco for the promotion and advancement of this powerful art form.
AHP members can add this experience as an optional activity during the High Desert Media Roundup conference in Albuquerque.
This show is held at Hotel Albuquerque and will follow the Friday evening AHP special events.
AHP reserved tickets are SOLD OUT. There are VIP ($25) and Premium ($30) seats available on the Hotel ABQ website. To select your seat and purchase tickets for the May 31st performance, click on the link below:
https://tickets.holdmyticket.com/tickets/328586?tc=hmt_venue