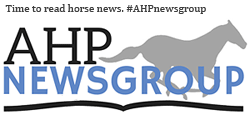 Nine Tips to Keep Your Horse Safe from Pests
7-31-2015, Merial
Equine Industry Poised for Growth, Third American Horse Publications Survey Shows
7-31-2015, Zoetis
Schleese Enters its 30th Year
7-31-2015, Schleese Saddlery Service, Inc.
Certified Horsemanship Association CEO Christy Landwehr Chosen as a 2015 Mover and Shaker of the Horse World
7-31-2015, Certified Horsemanship Association
Long Distance 'Mustang Extraordinaire' Cools Down After Reaching Lifetime 5, 000 Miles Thanks to Silver Whinnys by Sox For Horses, Inc.
7-31-2015, Sox For Horses, Inc.
Clarification Regarding SEI Helmet Certifications
7-31-2015, Riders4Helmets
Palm Partnership Training's Discover Western Dressage Symposium Becomes a Staple for Western Dressage Education
7-31-2015, Palm PartnershipTraining
PATH Intl. Conference Offers Introduction to EAAT
7-31-2015, Professional Association of Therapeutic Horsemanship
FOSH Announces Its Support for AntiSoring Bill, HR 3268
7-31-2015, Friends of Sound Horses, Inc.
APHA Magazines Sweep Livestock Publications Council Awards Contest
7-31-2015, Chrome
SmartPak Hits The Road, Again
7-31-2015, SmartPak Equine LLC
Champions of the Cause Announces First Award Winner
7-31-2015, EquiManagement
Six-time Olympian and USEA Hall of Famer Michael Page Returns to Judge 2016 College Preparatory Invitational Horse Show
7-31-2015, CPI Horse Show Services, LLC
Inaugural Santa Fe Horse Show with GGT-Footing is a Hit
7-31-2015, Polysols
Selecting PATH Volunteer of the Year Award 2015
7-31-2015, Cavallo Horse & Rider, Inc.
2015 Ariat Win A Grant Winners Announced
7-30-2015, EQUUS Foundation, Inc.
The Secret? Keep It Simple
7-30-2015, Juliet M. Getty Ph.D.
PAST Act Introduced in the House
7-30-2015, American Horse Council
AIM Equine Network and EQUUS Magazine Welcomes New Publisher
7-30-2015, EQUUS
Road to the Horse 2016 Sponsorship Opportunities Now Available
7-30-2015, Road to the Horse
W. F. Young, Inc. / Absorbine Announces Strategic Management Promotions
7-30-2015, W. F. Young
Western Dressage Association of America World Show & Annual Convention
7-30-2015, Western Dressage Association® of America
"And. they're OFF!" – the Equine Comeback Challenge Returns to the PA National Horse Show
7-30-2015, Pennsylvania National Horse Show
The Impact of Impact on Bone Health
7-29-2015, Equine Guelph
AAEP Announces Initiative to Enhance Horse Health, Racing Integrity
7-29-2015, American Association of Equine Practitioners