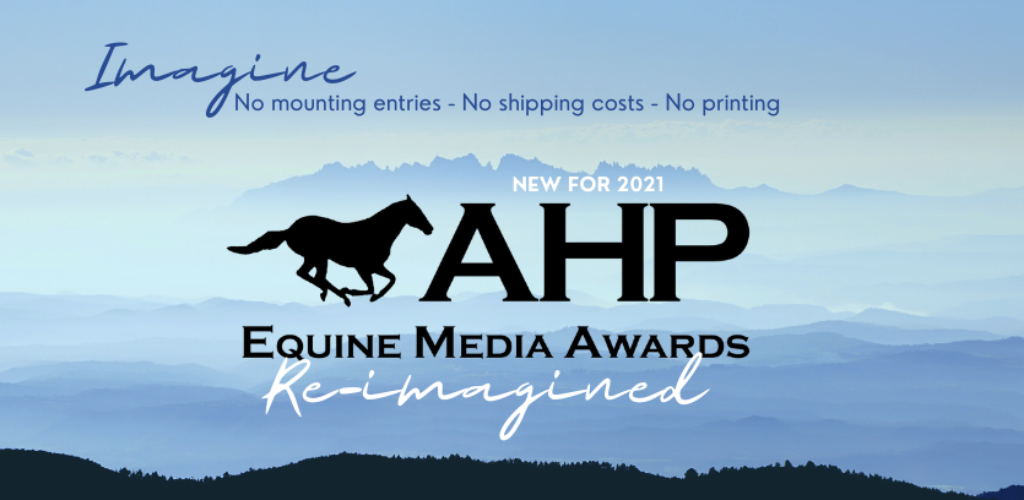 Why do members enter the AHP Equine Media Awards?
Rewarding accomplishment
Nothing feels better than being recognized for your work.
Constructive
critique
All entries receive a judge's constructive critique.
Promotion
benefits
Members spread the news of their honors to the equine world.
Resume
builder
Freelancers add their awards to resumes to build their reputation.
Submissions for the 2021 EMAs are closed.
Announcements on finalists and presentation dates will be posted as soon as available.
Good Luck to this year's entrants!
AHP Equine Media Awards

Guidelines
Please read awards guidelines and class lists available as PDFs.
Please note: Only one class can be entered per entry form.
All entries must submit the Equine Media Awards Entry Form online for every entry.
Entries in classes that require a hard copy of the publication or book must be shipped to the AHP office at AHP Equine Media Awards, 49 Spinnaker Circle, South Daytona, FL 32119
Entry Fee: $30 per entry. Unlimited entries accepted per member in all eligible classes. No refunds for entries that are disqualified or ineligible
For assistance and/or questions, please email Chris Brune at ahorsepubs@aol.com.
Preparing for online submission.
To help members prepare for entering their entries via an online submission system, please begin by reviewing: How to Prepare Entries Before You Submit Online. [pdf]
The following files are available to view and/or download: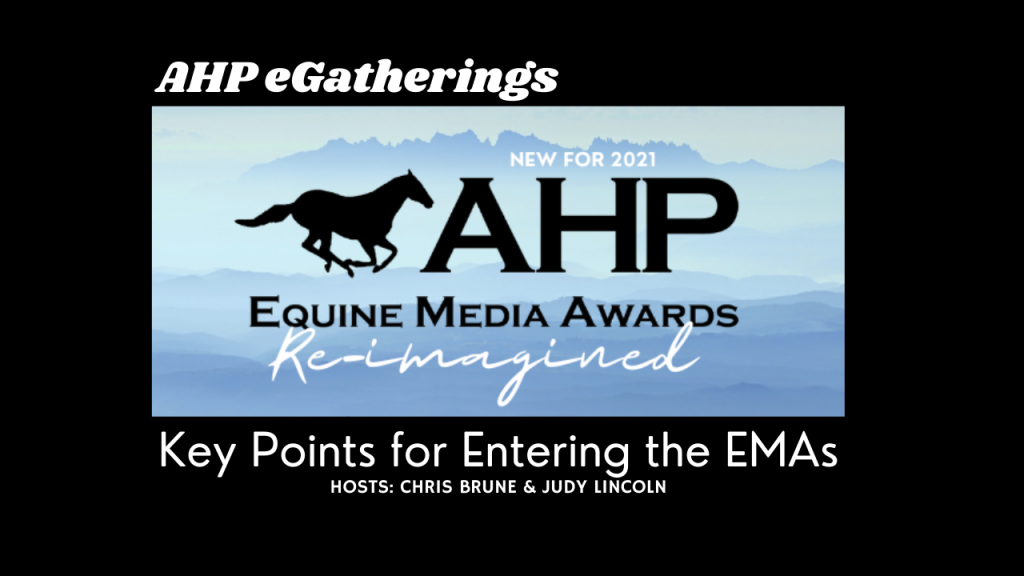 Advice on preparing online submissions and a walk through the new online submission entry form.
Recorded from AHP eGathering hosted by Chris Brune and Judy Lincoln
Deadline date for entries was February 15, 2021.
Late entries are not accepted. No exceptions.
Not an AHP member?
JOIN TODAY To learn more or to become an AHP member, visit: Become an AHP Member – American Horse Publications (americanhorsepubs.org)
Past awards contests

.
Promoting excellence in equine media has been part of AHP's mission for over 50 years. Held since 1975, the annual awards competition recognizes standards in journalistic integrity for informative and engaging content in a variety of media categories. Showcasing excellence in equine media as well as providing guidance for improvement are the two key elements of this member program.
PAST AWARDS RESULTS AND PROGRAMS
For more information about AHP membership or the EMAs, contact:
Chris Brune, ahorsepubs@aol.com, 386-760-7743.