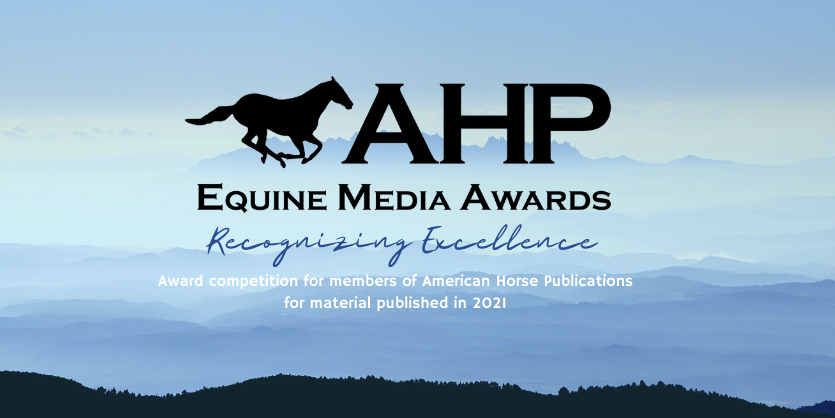 2022 AHP Equine Media Awards for material published in 2021
The Equine Media Awards is open to AHP members only and offers a Publishing Media Division for equine publications and media professionals as well as a Business Division for equine-related businesses, nonprofit organizations, and colleges.
Who can enter?
To enter the AHP Equine Media Awards, you must be an AHP member for 2022.
New members who join AHP may compete if 2022 dues are paid by the submission date, February 10, 2022. To join AHP, visit https://www.americanhorsepubs.org/become-an-ahp-member/.
To renew membership, log in to Member Center at https://www.americanhorsepubs.org/members-only/ with your username and password.
If you need assistance with login, a copy of the invoice, have changes to your membership, or your membership expired in 2020 or before, contact Chris at ahorsepubs@aol.com.
Ready to submit an entry?
Entry Fee: $35 per entry. Unlimited entries accepted per member in all eligible classes.
Member login is required to access the online submission forms available in the Member Center on the AHP website. Submission Forms are now available to AHP members.
To start selecting and preparing entries, review 2022 awards guidelines and class lists.
All entries must submit an online entry form for every entry. Member login required.
When are the entries due?
The entry deadline date is on or before February 10, 2022, 11:59 p.m. Eastern Time.
Late entries are not accepted. No exceptions.
When are the awards announced?
The 2022 AHP Equine Media Awards presentation will be held on Saturday evening, May 14, 2022, at the Lexington Griffin Gate Marriott Resort & Spa during the AHP Equine Media Conference in Lexington, Kentucky May 12-14.
Who do I contact for questions?
If you have questions about the AHP awards contest or membership, please contact Chris Brune at ahorsepubs@aol.com.
Why do members enter the AHP Equine Media Awards?
Rewarding accomplishment
Nothing feels better than being recognized for your work.
Constructive
critique
All entries receive a judge's constructive critique.
Promotion
benefits
Members spread the news of their honors to the equine world.
Resume
builder
Freelancers add their awards to resumes to build their reputations.
Who have been past EMA winners?
Promoting excellence in equine media has been part of AHP's mission for over 50 years. The annual awards competition recognizes standards in journalistic integrity for informative and engaging content in a variety of media categories. Showcasing excellence in equine media as well as providing guidance for improvement are the two key elements of this member program.