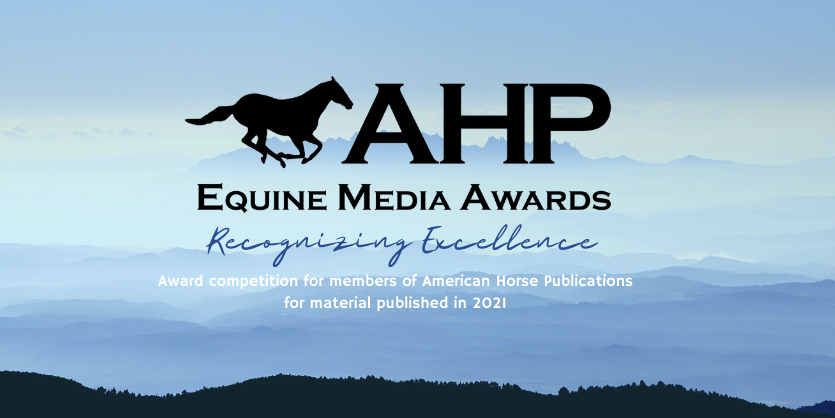 AHP Names Equine Media Awards Winners in Lexington
VIEW OR DOWNLOAD EMA RESULTS [PDF]
The Equine Media Awards is open to AHP members only and offers a Publishing Media Division for equine publications and media professionals as well as a Business Division for equine-related businesses, nonprofit organizations, and colleges.
Earning an award for excellence in equine media has been a goal of AHP members since 1976. This year, 36 Publishing Media members, 17 Media Professional members, and 14 Business members have advanced to the top five in one or more of the 52 classes. Submissions for the 2022 Equine Media Awards for material published in 2021 totaled 583 entries from 102 AHP members.
The announcement of the Equine Media Awards winners is a yearly anticipated event for AHP members. "Twenty professional judges describe their task as challenging due to the high level of competitive entries," Chris Brune, EMA Coordinator, said. "One judge asked to convey to the participants that the difference between placing and not placing is virtually imperceptible this year for most entries."
The 2022 AHP Equine Media Awards presentations were held on Saturday, May 14, during the AHP Equine Media "Back to the Bluegrass" Conference in Lexington, Kentucky. "Members love the awards ceremony where they are publicly recognized for their achievements and applauded by their peers," Brune said.
Congratulations to the 2022 Equine Media Awards Winners!
---
---
When are the awards announced?
The 2022 AHP Equine Media Awards presentation were held on Saturday evening, May 14, 2022, at the Lexington Griffin Gate Marriott Resort & Spa during the AHP Equine Media Conference in Lexington, Kentucky May 12-14.
Who do I contact for questions?
If you have questions about the awards or conference, please contact Chris Brune at ahorsepubs@aol.com.
Why do members enter the AHP Equine Media Awards?
Rewarding accomplishment
Nothing feels better than being recognized for your work.
Constructive
critique
All entries receive a judge's constructive critique.
Promotion
benefits
Members spread the news of their honors to the equine world.
Resume
builder
Freelancers add their awards to resumes to build their reputations.
Who have been past EMA winners?
Promoting excellence in equine media has been part of AHP's mission for over 50 years. The annual awards competition recognizes standards in journalistic integrity for informative and engaging content in a variety of media categories. Showcasing excellence in equine media as well as providing guidance for improvement are the two key elements of this member program.