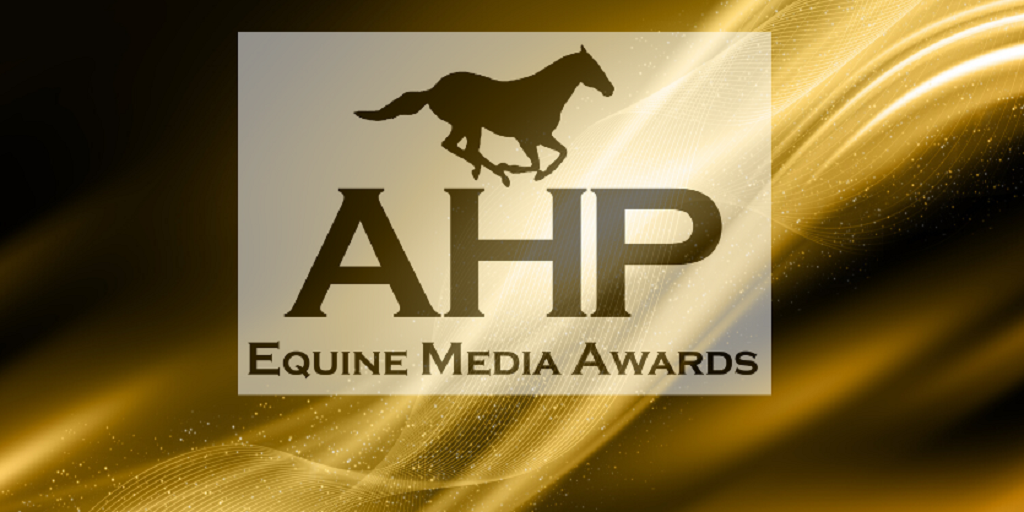 Finalists in 2020 AHP Equine Media Awards Released

Live awards presentation in Lexington may be cancelled, but excellence in equine media stays strong
The release of the finalists in the Equine Media Awards is anticipated by AHP members every year. Of the 111 participants who entered their best material published in 2019, 70 moved forward to placing in the top five in one or more of the 56 classes in the 2020 AHP Equine Media Awards (EMA).
Due to the COVID-19 pandemic, the awards live presentations scheduled for May 30 in Lexington, Kentucky during the 2020 AHP Equine Media Conference were cancelled. The results of the Equine Media Awards will be announced online on May 30, 2020 and a presentation video will be available to view the winning entries. Award plaques and certificates will be shipped to the winners. Read FULL RELEASE
Congratulations to the following AHP members who are Equine Media Award finalists for 2020.
PUBLISHING MEDIA MEMBERS

American Farriers Journal
America's Horse
Arabian Horse Times
Barrel Horse News
BloodHorse
Canadian Horse Journal
Chrome
Covertside
Dressage Today
Driving Digest
EquiManagement
EQUUS
Hoof Beats
Hoofcare Publishing
Horse & Rider
Horse Illustrated
Horse Network
Keeneland Magazine
Mid-Atlantic Thoroughbred
New Bridge Polo
New York Horse
NRHA Reiner
Paint Horse Journal
Practical Horseman
Quarter Horse News
Sidelines Magazine
Speedhorse
The American Quarter Horse Journal
The Chronicle of the Horse
The Horse: Your Guide to Equine Health Care
The Team Roping Journal
Thoroughbred Daily News
Untacked
US Equestrian
USDF Connection
USHJA In Stride
Western Horseman

MEDIA PROFESSIONAL MEMBERS

Jean Abernethy
Jennifer Bryant
Julie J. Bryant
Liz Callar
Julie I. Fershtman
Tracy Gantz
Douglas Lees
Anett Mindermann
Tenney Mudge
Morgan Nati
Katie Navarra
Shelley Paulson
Allison Armstrong Rehnborg
Natalie Keller Reinert
Patti Schofler
Shawna Simmons
Anna Sochocky
Kara L. Stewart
Suzanne Sylvester
Lisa Wysocky

BUSINESS MEMBER FINALISTS

AIM Equine Network
Central Garden & Pet
Harness Horse Youth Foundation
Kentucky Equine Research (KER)
Monty Roberts JOIN UP International
National Ranching Heritage Center
National Reining Horse Association
Purina Animal Nutrition
Signal Theory
SmartPak
Straight Arrow Products, Inc.
The American Society for the Prevention of Cruelty to Animals (ASPCA)
US Equestrian Federation
Why do members enter the contest?
Rewarding accomplishment - Nothing feels better than being recognized for your work. Whether you are publication staff, a freelancer, or a business, achieving excellence in your field is rewarding and demonstrates high journalistic and media standards. All finalists receive a plaque as a class winner or a certificate for second, third or honorable mention. Staff members and freelancers love receiving these awards as recognition of their achievement.

Constructive critique - Every entry receives a constructive critique from the judges. These comments can help members to improve their skills or be applauded for a work well done.

Promotion - Members spread the news of their honors by publishing their achievements and awards to the equine world.

Resume builder - Freelancers add their awards to their resumes to build their reputation in the equine media world.
Past Awards Contests
View video of the 2019 AHP Equine Media Awards Presentations. [30 mins.]
PAST AWARDS RESULTS AND PROGRAMS
Past awards results are available in PDF format 2002 to 2019.