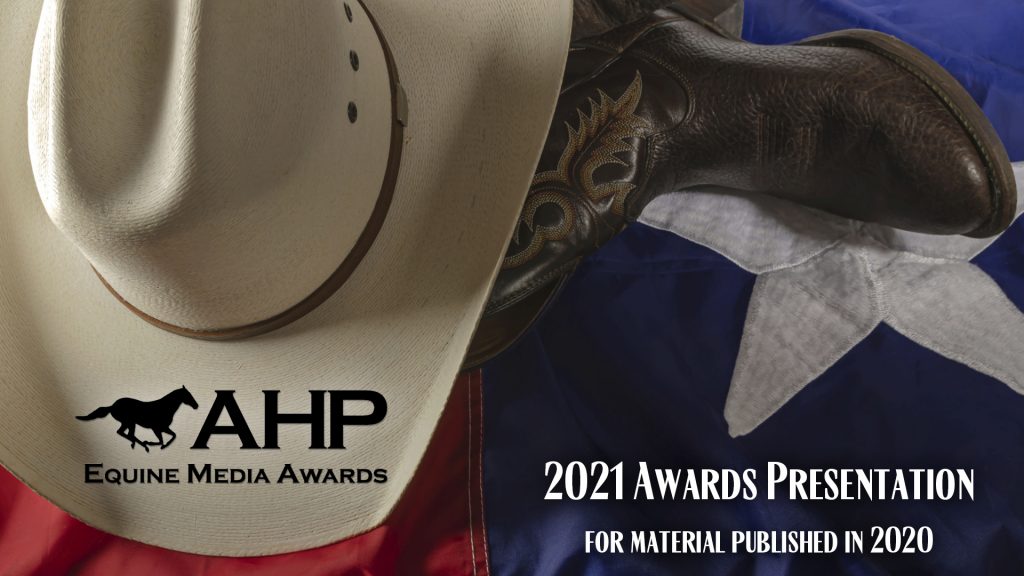 American Horse Publications Announces Winners in 2021 Equine Media Awards at Back in the Saddle Conference in Texas
Congratulations to this year's winners!
Read the press release on 2021 AHP Equine Media Winners.
Member enthusiasm and online submissions keep equine media strong as AHP celebrates excellence in Texas.
They start in January selecting their best work published in 2020. By the February deadline date, they have submitted their entries. All they can do now is wait.
The release of the finalists in the Equine Media Awards (EMA) ends the waiting period. Earning an award for excellence in equine media has been a goal of AHP members since 1976. Of the 98 participants who entered, 66 have moved forward to placing in the top five in one or more of the 56 classes in the 2021 AHP Equine Media Awards.
This year, AHP moved its conference in Texas from May to September in order to hold an in-person event and awards presentations.
"Members love the awards ceremony where they are publicly recognized for their achievements and applauded by their peers at the annual conference," says Chris Brune, Executive Director. "It was important for our association to give members a chance to be together on this special night."
Changes to the workplace and budgets did not hinder the enthusiasm to enter the 2021 EMA competition. A total of 643 entries were submitted by 98 members, 33 Publishing Media members, 19 Media Professional members, and 14 Business members.
A landmark change to the 45-year-old contest was the implementation of an online submission and judging system in 2021. "This new system eliminated shipping packages for members, judges, and the association and saved time and money," says Brune. "After the initial learning curve, both members and judges found the system easy and quick to navigate."
The 2021 AHP Equine Media Awards presentations were held on Saturday evening during the AHP Equine Media "Back in the Saddle" Conference in Irving, Texas on September 16-18, 2021.
---
Why do members enter the AHP Equine Media Awards?
Rewarding accomplishment
Nothing feels better than being recognized for your work.
Constructive
critique
All entries receive a judge's constructive critique.
Promotion
benefits
Members spread the news of their honors to the equine world.
Resume
builder
Freelancers add their awards to resumes to build their reputation.
Past awards contests

.
Promoting excellence in equine media has been part of AHP's mission for over 50 years. Held since 1975, the annual awards competition recognizes standards in journalistic integrity for informative and engaging content in a variety of media categories. Showcasing excellence in equine media as well as providing guidance for improvement are the two key elements of this member program.
PAST AWARDS RESULTS AND PROGRAMS
Not an AHP member?
JOIN TODAY To learn more or to become an AHP member, visit: Become an AHP Member – American Horse Publications (americanhorsepubs.org)
For more information about AHP membership or the EMAs, contact:
Chris Brune, ahorsepubs@aol.com, 386-760-7743.