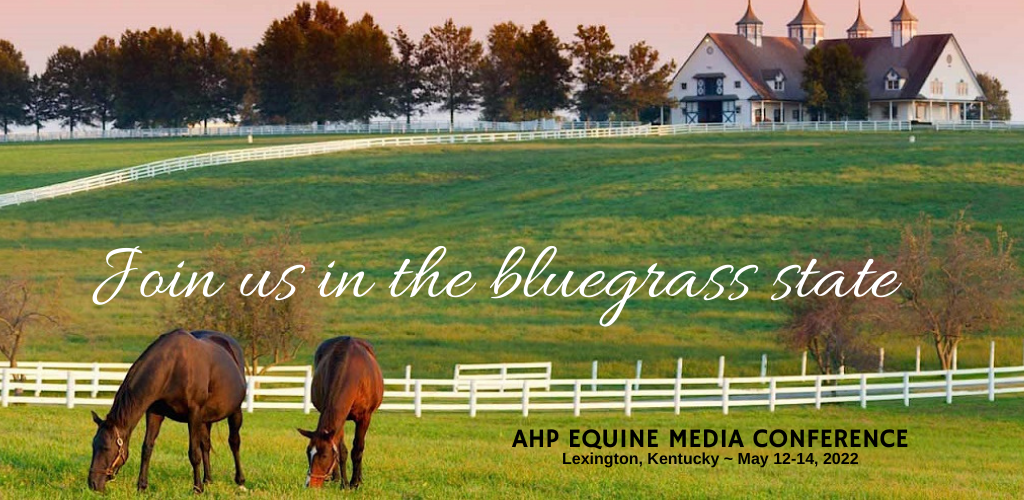 If you are an equine media professional, publisher, or equine-related business or organization, consider attending the 2022 AHP Equine Media Conference in Lexington, Kentucky on May 12-14, 2022.
What is the AHP Equine Media Conference?
American Horse Publications (AHP) has held an annual conference for its members since the early 70s. The three-day equine media event is jam-packed with educational sessions, special events, and the announcement of the AHP Equine Media Awards.
Sessions cover publishing, journalism, visual media, revenue building, marketing, professional development, and more. The conference is the number one place in the equine industry to network with equine media professionals and AHP members.
Who attends?
The AHP Equine Media Conference is a members-only event. Attendees include equine media professionals, publishers, equine-related businesses and organizations, and students pursuing a career in equine media.
The conference is an opportunity to connect with professionals in the equine media industry in both a casual and professional environment. Not only do members have a chance to renew relationships, but they also exchange fresh ideas and make key contacts.
---
"The networking is invaluable and the knowledgeable presenters are the best in the business."
DEBBIE LOUCKS, Monty Roberts Join Up International, Business Nonprofit Member
When and where?
The annual event rotates throughout the United States. In 2022, the event will be held on May 12-14 at the Marriott Griffin Gate Resort in Lexington, Kentucky.
---
"I always walk away from the conference with at least one new tool to use and
new friendships to keep me grounded."
MEGAN ARSZMAN, Freelance Writer, Media Professional Member
---
"The networking opportunities with decision-makers at major horse publications are amazing,
and the friendships last forever."
LISA WYSOCKY, Media Professional Member
Not an AHP member?
BECOME A MEMBER AND JOIN US IN LEXINGTON
Memberships are good through 12/31/2022 and you will be eligible to attend the 2022 conference in Lexington, Kentucky. (Registration fees apply)
---
"If you are serious about a career in equine media, then the AHP conference is a must-attend event. It is the best value in the publishing industry."
JENNIFER BRYANT, Editor, USDF Connection
For more information on AHP membership or attending the conference, contact:
Chris Brune, AHP Executive Director, ahorsepubs@aol.com
www.americanhorsepubs.org