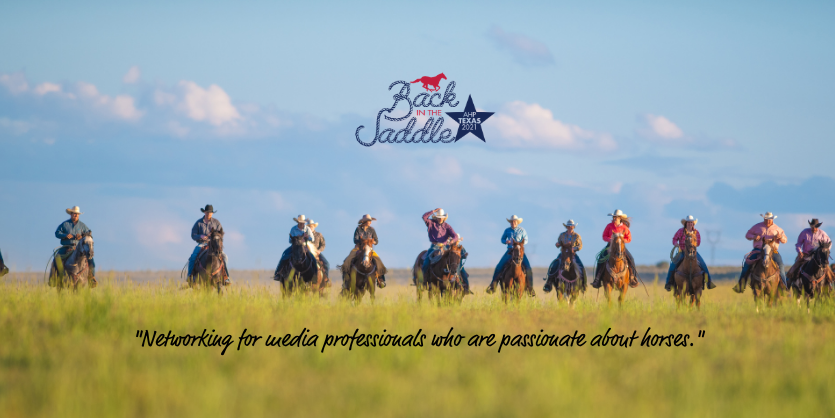 Westin Dallas Fort Worth Airport, Irving, Texas ~ September 16-18, 2021
Networking is key to building relationships in our industry. After a year of social distancing, members are eager to meet their peers and friends in person. It is going to feel great to be back in the saddle again!
Highlights of the 2021 Schedule of Events
The AHP Conference includes two days of educational sessions. The lineup of topics include:
Speakers Worth Listening To
Barbra Schulte, 2020 Equine Industry Vision Award Winner
Keynote Address
Jim Jennings, Editor Emeritus, The American Quarter Horse Journal
Transitioning an Existing Breed Publication to a New Level in a Risky Publishing Market
Dr. Billy Smith, Executive Director, American Paint Horse Association
Integrity Matters – and Here's Why
Blake Lewis, Founding Principal and CEO, Three Box Strategic Communications
Deep Dive: Reputation Management Series
---
"The networking is invaluable and the knowledgeable presenters are the best in the business."
DEBBIE LOUCKS, Monty Roberts Join Up International, Business Nonprofit Member
Topics To Up Your Game
Presented by AHP Members
3 Ways to Increase Freelancer Productivity
Blogging Unbridled: Influence, Engagement, and Monetization for Writers, Creatives and Brands
Ride & Write Your Best Path Forward
You Started a Podcast, Now What?
A Professional Author Presence: Putting Your Best Hoof Forward
Free Your Mind – and the Creativity Will Follow
Find Growth within Your Niches
---
"I always walk away from the conference with at least one new tool to use and
new friendships to keep me grounded."
MEGAN ARSZMAN, Freelance Writer, Media Professional Member
Panelists To Learn From
45 Ideas: Networking and Personal Branding
Moderated by Pat Trowbridge; Panelists: Kathy Dando, Emily Dulin, and Catie Staszak
Case Studies in Finding New Revenue
Learn how to connect with new audiences and drive revenue to your business from Billy Smith, APHA; John Lunn, Morris Enthusiast Group, and Stephanie Macejko, Breyer®Horses.
We Cover It All
From nose to tail, equine book insiders, Rebecca Didier, Lisa Wysocky, and Merri Melde, lead the way to getting your thoughts between covers.
The Quiet Explosion
Learn how four podcaster, Julie Bryant, Annie Kennedy, and Jeye Johnson, found their niches in the industry, expanded their brands, and created compelling content for their listeners.
Plus, networking opportunities including Speed Networking, Networking Luncheon, Sharing Ideas Roundtables, and Special Events.
---
"The networking opportunities with decision-makers at major horse publications are amazing,
and the friendships last forever."
LISA WYSOCKY, Media Professional Member
Award Winners and Special Events
2021 Equine Media Awards winners will be recognized for excellence published in 2020.
Learn the names of the 2021 finalists.
Join us to celebrate Special Award winners of the Equine Industry Vision Award, AHP Equine Media NextGen Award, and the AHP Equine Media Student Award.
Pre-conference tour options will be available for members and guests. Tours will depart from the hotel on Thursday morning, September 16. Details and costs to be announced.
---
"AHP brings a unique group of people together that have a common bond…horses!"
BETH WHITE, Straight Arrow Products, Business Member
Hotel Reservations
Westin Dallas/Fort Worth Airport, Irving, Texas
4545 W. John Carpenter Freeway, Irving, TX 75063 – 972-929-4500
Group Room Rates: $129 plus tax. Cutoff date: August 27, 2021
Book room online.
Contact Chris at ahorsepubs@aol.com for assistance.
Airport/Hotel Transportation Options
Dallas/Fort Worth International Airport (DFW) (within 3.2 miles) – DFW Airport hotel complimentary shuttle is available to guests by reservation allowing up to six individual travelers at a time.
Dallas Love Field (DAL) (within 14 miles) – The Westin does not offer a shuttle service. Shared-ride options are recommended.
Complimentary Hotel Self-Parking
---
"Attending should be a no-brainer for anyone in equine media."
MILT TOBY, Author and Attorney, Media Professional Member
Conference Registration Fees
Fee per Individual Attendee – No onsite registrations will be accepted.
AHP Members Only Full Registration
Full registration fee includes all sessions, breakfast, and lunch on Friday and Saturday PLUS events on Thursday, Friday, and Saturday evenings
$250 Publishing Media, Nonprofit, College Member Staff
$250 Media Professional Member
$350 Business Member Staff
$125 Student Member
AHP Members Only One-Day Registration (Friday or Saturday)
One-day registration includes all sessions and meals on Friday or Saturday.
$150 Publishing Media, Nonprofit, College Member Staff
$150 Media Professional Member
$250 Business Member Staff
Online registration will be available soon.
Contact Chris at ahorsepubs@aol.com for assistance.
Online prepaid registrations accepted until Thursday, September 16.
Registrations may be refunded in full if you notify AHP of your cancellation in writing on or before midnight EDT, Thursday, September 16, 2021.
---
"The AHP Conference is the highlight of my year!"
SARAH EVERS CONRAD, Horse Illustrated, Publishing Media Member
Not a member? Join AHP in 2021 and attend the conference.
Half-year member rates will be available on July 1, 2021. Become a Member.
For more information about the conference or membership, contact: Chris Brune, ahorsepubs@aol.com
---
"My first AHP conference was a great opportunity to learn new things and meet new people."
KATHLEEN LANDWEHR, US Equestrian, Publishing Media Member
---
"If you are serious about a career in equine media, then the AHP conference is a must-attend event. It is the best value in the publishing industry."
JENNIFER BRYANT, Editor, USDF Connection