AHP Equine Media Conference ~ Tempe, Arizona ~ June 22-24, 2023
The Ever-Changing Media Landscape
Attending the 2023 AHP Equine Media Conference provides cutting-edge educational resources on the latest trends in media, encourages best business practices and journalism standards, and connects the industry through networking sessions and opportunities.
The annual AHP Equine Media Conference includes two days of educational sessions plus special evening events on Thursday, Friday, and Saturday. The conference is the number one place in the equine industry to network with equine media and members of AHP. The 2023 Equine Media Awards winners are announced on Saturday night for members' work published in 2022.
ATTENDEE LIST is available on the AHP website in the Member Center. Login required.
Registration Fees
Online Registration Deadline: June 16, 2023
NO ONSITE REGISTRATION
AHP Members Only Full Registration Fees
Full registration fee includes all sessions, breakfast, and lunch on Friday and Saturday PLUS events on Thursday, Friday, and Saturday evenings
$275: Media Industry or Nonprofit Member Staff
$275: Media Professional Member
$375: Affiliate Business Member Staff
$125: Student Member
AHP Members Only One-Day Registration Fees (Friday or Saturday)
One-day registration includes all sessions and meals on Friday or Saturday.
$175: Media Industry or Nonprofit Member Staff
$175: Media Professional Member
$275: Affiliate Business Member Staff
Hotel Headquarters
DoubleTree by Hilton – Phoenix-Tempe
Visit hotel website
"Your warm cookie is waiting."
Hotel Reservations
The cutoff date for the group block has ended. Chris has a limited number of group rates available. Please email her at ahorsepubs@aol.com.
Airport/Hotel Transportation Options
Phoenix Sky Harbor Airport (PHX)
Complimentary Airport Shuttle
(Call from Baggage Claim)
Complimentary Hotel Self-Parking at DoubleTree
READY TO REGISTER Click here
to access the registration form (Member login required)
---
Sessions will be divided into four tracks covering topics targeted toward various levels and interests.
THE ART OF STORYTELLING
Framing the West, Composing Compelling Images
Guest Speaker: Chris Dickinson, Western Photographer
Technical settings aside, shooting with an open heart gives both you and your subject the opportunity to connect on a much deeper emotional level while capturing authenticity. Chris Dickinson (cdphotog) shares impactful stories and images from the ranches and backroads while providing anecdotal remedies and ideas for creating compelling images.
Unearthing Truths and Crafting Stories: How to Weave a Nonfiction, Long-Form Narrative
Presenter: Susan Friedland, Author and Blogger
Have you pondered writing a non-fiction book but didn't know where to start? Does structuring a story longer than an article or blog post make your palms sweat? Is there a compelling topic you hope to explore in-depth and write about "someday," but someday hasn't dawned? Join equestrian author and blogger Susan Friedland as she pulls back the curtain on her research and writing process for her latest memoir Marguerite, Misty and Me: a Horse Girl's Hunt for the Hidden History of Marguerite Henry and her Chincoteague Pony. Discover resources, techniques and practices to power up your long-form nonfiction writing.
Never Burn Your Moving Boxes
Guest Speaker: Jolyn Young, Author, Rancher
Jolyn Young writes about the comical side of living on a rural cattle ranch in the great American West on her blog and for Western Horseman magazine. Her story, and that of her family, was featured in the documentary film Cowboys: A Documentary Portrait. Never Burn Your Moving Boxes is her first book published by Trafalgar Square Books.
FREELANCE MEANS BUSINESS
Lions & Tigers & Bears, Oh My!* Taming the Beasts Lurking in Your Publishing Contracts (Virtual Session)
Presenter: Milt Toby
In this session, Award-winning author and retired attorney Milt Toby will discuss issues that may arise when negotiating a print or digital magazine article contract. These issues include the rights in the article you transfer to the publication and the rights you might want to keep, getting paid in a timely manner, warranties, and the dreaded indemnification clause. We'll also touch on the pros and cons of the Copyright Claims Board and Artificial Intelligence's place in publishing contracts. The presentation is geared toward writers, but the material also is suitable for editors and photographers. There will be time for questions, and attendees are invited to submit their questions in advance to milttoby@hotmail.com.
*With apologies to Dorothy, the Tin Man, and the Cowardly Lion.
Best Business Practices for Freelancers
Moderator: Jennifer Bryant, Editor, Author
Panelists: Kate Bradley Byars, Freelance Writer and Photographer; Allison Rehnborg, Marketing Coordinator, Equine Affaire; Karin Bump, Educator, Owner and Managing Director, Saddle Up NY; Anna Sochocky, Equi-Libris LLC
This session addresses accounting, stress and burnout, time management, work life balance, continuing education, editor relations, content management, honing research skills, and more.
Self-Marketing for Freelancers: The Magic Ingredients
Co-Moderators: Abigail Boatwright & Kate Bradley Byars, The Freelance Remuda co-founders

Panelists: Ashton Kirkeide (social focus); Carly Kade (author); Mackenzie Kimbro (TV, author, social branding); Chris Dickinson (photographer)
What's the magic formula to get yourself or your work noticed? While we can't give you the potion, this panel of experts will give you the ingredients you need to craft a marketing approach and get that project!
Podcasting Tips for Freelancers
Moderator: Carly Kade. Equestrian Author Spotlight Podcast
Panelists: Abigail Boatwright, Freelance Remuda; Stephanie Ruff, Practical Horseman Podcast, Holly Caccamise, Horse Illustrated's Barn Banter Podcast
This session covers how to grow your business, get through tough interviews, acquire sponsors, learn about video podcast trends, and more.
CONTENT THAT GENERATES REVENUE
Build and Market Your First Online Course (two sessions)
Presenter: Shelley Paulson, Equine Commercial, Editorial, and Stock Photographer and Photography Educator
Share your expertise and get paid for it by creating engaging online educational content. The class will cover choosing a topic, designing a curriculum, and creating engaging content. You will also learn how to market your course using social media and email marketing.
Branding Your Social Media
Presenters: Claire Trafton and Camryn Faust, Kimes Ranch

Talk with two marketing professionals from the team at Kimes Ranch about building a consistent brand image on social media and how best to utilize the platforms.
Maximizing Event Coverage: Bang for Your Buck and Theirs
Presenter: Gabby Schiavino, Sr. Managing Editor of The Team Roping Journal, The Breakaway Roping Journal and CalfRoping.com (Equine Network)
Event coverage is no small task, so it should generate no small rewards. From pre-event coverage prep to post-event performance roundups, this presentation is a behind-the-curtain purview of how to set up your editorial team and your product for profitable and rewarding, cross-platform event coverage success. Together, we will explore how to create compelling content at the cross section of advertiser satisfaction and journalistic integrity.
TRENDS IN MEDIA
Town Hall: Impact of AI (Artificial Intelligence) on Equine Media
Moderator: Jeremy McGovern, AHP President
Panelists: Eric Shanfelt, Digital Media Executive, Consultant, Nearview Media; Gary Wollenhaupt, Content Marketing Writer; Kim Brown, Publisher EquiManagement, Equine Network; Shelley Paulson, Freelance Photographer
Is AI a threat, an opportunity, or a tool for the media industry? On a larger level, AI chatbots like ChatGPT have generated broader concerns that they will mislead people, spread falsehoods, violate copyright protections and upend some jobs.
Moderator Jeremy McGovern will lead a discussion with panelists on their views about artificial intelligence. Then he will open the floor for member questions for the panelists.
What Publishers Need to Know to be Successful Online in 2023
Guest Speaker: Eric Shanfelt, Founding Partner, Nearview Media
Publishers are overwhelmed by the huge variety of technologies and the pace of change in the digital landscape. In this session, 30-year digital media veteran, Eric Shanfelt, will simplify it all and help you focus on what you really need to be successful in 2023. From SEO and analytics, to social media, email and advertising, you'll walk away with several ideas you can quickly implement to grow your audience, grow your revenues, serve your readers, and be successful online.
45 Ideas: Elevate Your Pitch to Grow Your Business
Moderator: Pat Trowbridge, English Group Publisher, Equine Network, LLC
Panelists: Rhianna Russell, Catapult; Emily Dulin, Brooke USA Foundation; Nichole Chirico, Horse & Rider; Jackie McFarland, EqSol
Making the sale or getting the job takes a new approach in this ever-changing media world. Adjusting your pitch, learning new skills, and being flexible can open new doors.
Think Like an Influencer Through Marketing Strategies
Moderator: Stephanie Church, Editor-in-Chief, The Horse
Panelists: MacKenzie Kimbro, Cattle Rancher, Western Industry Blogger/Influencer; Kenzie Holmberg, Western Brand and Lifestyle Photographer
This session is directed to marketing tips for publishers and freelance content creators to think like an influencer and incorporate collaborative marketing.
---
NOT A MEMBER? SIGN UP TODAY AND JOIN US IN TEMPE
To learn more about membership, visit https://www.americanhorsepubs.org/become-an-ahp-member/
---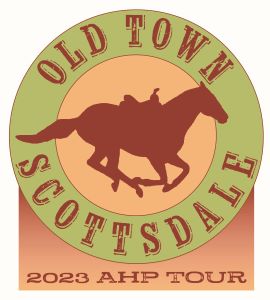 Thursday Old Town Scottsdale Tour
June 22, 2023 – 9 a.m. to 3 p.m. – Cost: $40
AHP Members and Guest Only – Limited Availability
Known as the "West's Most Western Town," Scottsdale, Arizona, has rich agricultural roots, but today it's a vibrant city filled with spas and resorts, galleries, boutiques, and diverse cuisine. It's also home to several well-known horse trainers.
Experience Old Town Scottsdale in this self-guided tour planned just for AHP members attending the Meet at the Mesa Conference. The bus will leave from the DoubleTree Hotel at 9 a.m. sharp and drop you off and pick you up at the Western Spirit: Scottsdale's Museum of the West, where you'll have more than four hours on foot to explore everything this colorful Western-centric area has to offer. The bus will leave at 2:30 p.m. and return to the hotel.
For more information and to register, click REGISTER HERE.
REGISTER HERE (Requires Login to Member Center)
---
Shipping Instructions to the Conference
Shipments should arrive no earlier than Friday, June 16 and by Tuesday, June 20
Ship to:
Christine W. Brune
American Horse Publications Conference
DoubleTree by Hilton Phoenix-Tempe
2100 South Priest Drive
Tempe, AZ 85282
Phone 480-967-1441
E-mail: ahorsepubs@aol.com / 386-290-3253
---
"We learn better when we learn together."
FOR QUESTIONS ABOUT ATTENDING THE AHP EQUINE MEDIA CONFERENCE, CONTACT THE AHP CONFERENCE STAFF
Christine W. Brune, AHP Executive Director, ahorsepubs@aol.com
Carol Aldridge, Conference Management Director, carol@equineofficesolutions.com
Judy Lincoln, Administrative Assistant, ahorsepubs2@aol.com
See you in Tempe!