Breyer Horses Honored for Outstanding Leadership and Innovation Within the Equine Industry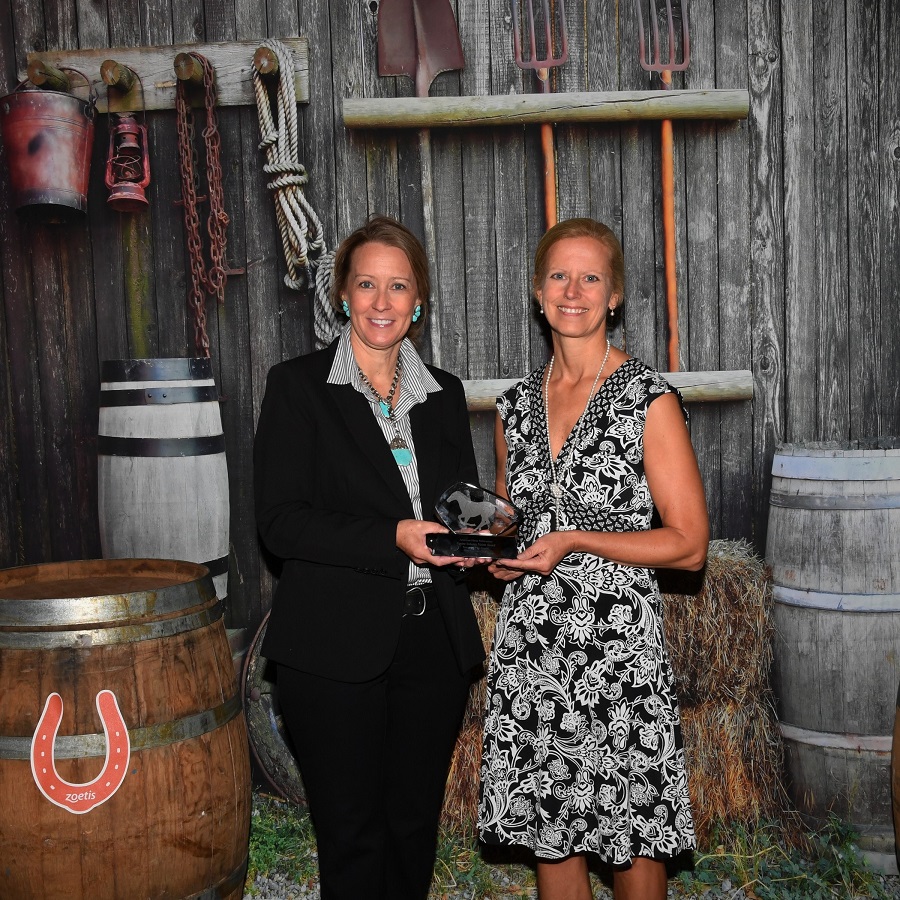 Breyer, a division of Reeves International was named the recipient of the 20th Annual Equine Industry Vision Award. Zoetis, in partnership with American Horse Publications (AHP), presented the award to Breyer® Horses on September 17, 2021, at the AHP Equine Media Conference in Irving, Texas. Established and sponsored by Zoetis, the prestigious award recognizes leadership, ingenuity, and innovation and serves to inspire those qualities in others.
"Zoetis is proud to recognize Breyer for their passion, dedication, and commitment to continuously connect people of all ages with horses," said Joycalyn Wininger, associate director, major accounts U.S. Equine, Zoetis. "The equine industry is like no other, everyone truly cares about the horse and the sustainment of our industry. From their corporate belief that "horses are good for people" – especially children – Breyer's 70+ year commitment is the epitome of a visionary equine industry leader."
Breyer, which celebrated its 70th anniversary in 2020, is the world's leading brand of horse-inspired toys, gifts, collectibles, and live events. Founded in 1950, Breyer celebrates the beauty, power, and inspiration of horses, with a dedicated commitment to authenticity, quality, and realism. Breyer is one of America's most iconic toy and collectible brands and its 'portrait' models of horse heroes like Secretariat and Black Beauty have been inspiring children and adults alike for generations. Breyer is developing original programming with Imagine Entertainment, and has partnerships with major studios, publishers, and licensees. Breyer's annual convention BreyerFest is one of the largest fan gatherings in the world celebrating the horse every July. Breyer is a division of Reeves International, a family-owned, New Jersey-based manufacturer.
"As one of those little girls whose own passion for horses was first realized and inspired through a Breyer model horse, today's Equine Industry Vision Award is one with profound personal and professional significance. I'm a real-life example of how a Breyer model horse can welcome newcomers to the horse industry and inspire a career path and experiences in the equine world beyond their wildest dreams. I am honored to accept this award today on behalf of Breyer, a company committed to visioning the horse world in timeless ways as we engage new generations and old," said Stephanie Macejko, Vice President of Marketing and Product Development for Breyer.
About the Equine Industry Vision Award
The Equine Industry Vision Award is given annually in recognition of outstanding leadership, creativity, and meritorious contributions toward positive changes in the equine industry. This distinguished award is a unique opportunity to publicly recognize ingenuity, originality, and effective innovation that exemplifies commitment, dedication, and service to the equine industry.
About American Horse Publications
American Horse Publications has united equine-related publishing media, businesses, professionals, colleges, and students for over 50 years. The nonprofit professional association promotes excellence in equine media and encourages relationships and communication to increase interest in the horse industry. For more, visit www.americanhorsepubs.org.
About Zoetis
As the world's leading animal health company, Zoetis is driven by a singular purpose: to nurture our world and humankind by advancing care for animals. After nearly 70 years of innovating ways to predict, prevent, detect, and treat animal illness, Zoetis continues to stand by those raising and caring for animals worldwide – from livestock farmers to veterinarians and pet owners. The company's leading portfolio and pipeline of medicines, vaccines, diagnostics, and technologies make a difference in over 100 countries. In 2020, Zoetis generated revenue of $6.7 billion with ~11,300 employees. For more, visit www.zoetis.com.
Posted in: