Scott Trees, International Equestrian Photographer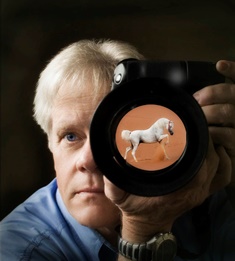 Tally Ho at the Alamo Seminar, 2015, San Antonio, Texas
As a creative artist, SCOTT TREES strives to bring the extraordinary out of the ordinary, not just in his work but in his life. This philosophy has served him well, and in the world of international equestrian photography and video production, Scott Trees has received prominent recognition.  His international client list reads like a "who's who" of distinguished owners, breeders and trainers throughout the world. His talent and experience have been commissioned for a variety of editorial and advertising assignments. In addition his work has been published worldwide in books and magazines.
Noted for his ability to connect with his subjects on an emotional level, Trees strives to capture the true essence of whatever he is shooting. His dramatic style is unique in the equestrian world, and he consistently delivers timeless, powerful images that help to brand a farm or individual horse for promotional and archival purposes.
In an effort to share his professional and life experiences, Trees has developed a series of educational and motivational lectures.  He also offers a variety of photography and video seminars and workshops both online and on location.
An entertaining and informative speaker, Trees generously shares his vast knowledge and experiences with AHP members in his session titled The Power of an Image: Photographs for Marketing in a Digital World.
Every day on Facebook alone over 200 million photographs are uploaded, which equates to about 6 billion per month.  Add to that list, trade publications, consumer magazines, and commercial applications, and it is clear that the digital age has created a deluge of photographic imagery.
"Today's technology has made the act of taking pictures easy.  But if you are going to use a photograph to market a product, it needs to capture audience attention. As a result, when it comes to marketing, the importance of a good photograph has never been more important than in today's digital world.  The equestrian industry is not immune to that fact," says Trees.
"In my many years of not only equestrian related shooting, but also commercial photography and video production, I have gained valuable knowledge about the importance of good imagery for marketing and promotion.  The deluge of images in digital marketing requires a photograph that captures viewer attention while clearly conveying the sales message.  I don't care if you are selling cars, clothing or horses, if you are going to use a photograph to capture viewer attention it needs to stand apart from everything else it competes with.  And there is a LOT of competition!" explains Trees about the basis of this presentation. "I am an advertising photographer who happens to specialize in horses."
When not traveling, Trees is based in Ft. Worth, TX.
Posted in: