AHP Members Partake in Inaugural Regional Workshop
By Megan Arszman
American Horse Publications members gathered October 15 at The Club in the University of Kentucky's Spindletop Hall, in Lexington, for the association's first regional workshop.
Thirty-three AHP members from the Lexington area, and surrounding states, participated in the one-day social media marketing workshop presented by award-winning digital strategist and best-selling author Jason Falls. "The No-Nonsense Guide to Social Media" presentation focused on teaching the ins and outs of smart social media marketing and also on how to leverage social media tools, tactics and talents to vie for viewers, readers and advertising dollars. The workshop lasted about 8 hours, and offered a relaxed luncheon to allow time for networking.
One key takeaway:  Social media use must be strategic. It's critical to know why you are using social media as part of your marketing plan, thus creating a ladder for your marketing plan and business goals.
"The biggest problem that most brands have with social media marketing is when they report their success, they're unhappy with the outcome… . They're trying to accomplish some goal and the boss wants to know what was the [return on investment]," said Falls. "If you're trying to accomplish a goal like brand awareness, it's not something you can measure in dollars and cents."
Attendees shared positive feedback from the event.
"It was the most helpful, practical, pleasant workshop I have ever attended," says Cindy Rullman, former Annual Gifts Officer for Brooke USA. "It definitely exceeded my expectations, and I appreciate having had the opportunity to attend. Great value for the money."
Members from the area volunteered to help plan the Lexington workshop.
"The annual AHP Equine Media Conference has been a must-attend event for members for nearly 50 years," says AHP Executive Director Chris Brune. "We wanted to create more opportunities for professional development and for members to network with their peers on a year-round basis.
If you're interested in helping develop a workshop in your area or have topic ideas, contact Judy Lincoln at ahorsepubs2@aol.com.
Falls shares a social media tip on how to be strategic.
About the Speaker - Jason Falls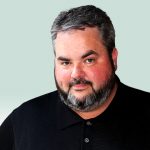 JASON FALLS is a leading digital strategist, author, speaker and thinker in the digital and social media marketing industry. His strategies and ideas have touched iconic brands including AT&T, Valvoline, Buffalo Trace, Humana, Rawlings, Maker's Mark, Tempur-Pedic, Fireball Whisky, Trident, GM and more.
Falls is an innovator in the conversation research segment of social analytics and founded the Conversation Research Institute which mines online conversations for consumer insights for businesses of all sizes. An award-winning strategist and widely read industry pundit, Falls has been noted as a top influencer in the social technology and marketing space by Forbes, Entrepreneur, Advertising Age and others. He is the co-author of two books: No Bullshit Social Media: The All-Business, No-Hype Guide To Social Media Marketing (Que 2011), and The Rebel's Guide To Email Marketing (Que 2012). Falls is also noted for founding SocialMediaExplorer.com, one of the industry's most widely read blogs.
He currently leads digital and social strategy for Cornett, a full-service ad agency in Lexington, Ky.
For more information on future regional workshops, contact: JUDY LINCOLN, AHP REGIONAL WORKSHOP CHAIRMAN
Email: ahorsepubs2@aol.com