Ema Klugman Selected 2016 AHP Student Award Winner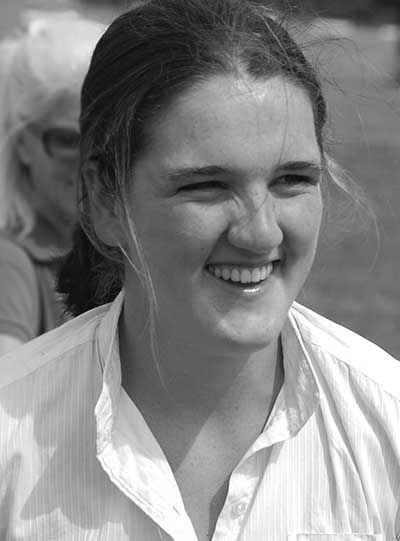 Ema Klugman, the daughter of Jeni Klugman and William Jack of Washington, DC, became the 2016 AHP Student Award Winner on June 17, 2016 during the AHP May the Horse Be with You Seminar in Orlando, Florida. Klugman is a cum laude graduate from the Maret School in Washington, DC and starts her freshman year at Duke University in August 2016.
"I have relished the broad array of experience that my life has offered so far – from riding to music, travel, study, and writing," says Klugman.
An accomplished equestrian competitor, her riding experience extends through the two-star international level in eventing with horses she produced herself, building on the skills learned as a Pony Clubber and training young horses. She learned to ride in Nairobi, Kenya when she was seven years old, but she is originally from Australia.
Earlier this year, she was hired as a working student at Offbeat Safaris, a horse safari operation based out of Kenya, interned at the Akilah College for Women, and taught at a music school for young children in Kigali.
Horse Radio Network's Glenn Hebert interviewed Klugman on the Stable Scoop Radio Show soon after the AHP seminar where he met her. Asked about when she started writing, Klugman said she had a fascination for words from the time she learned to spell. English was her favorite subject and she discovered that she could combine her passion for horses with something she was good at.
Klugman became the Editor-in-Chief of The Maret Literary and Visual Arts Magazine which required leading a team in selecting pieces, organizing meetings, communicating with printing companies, and laying out the annual publication. She also worked for two years on the Maret newspaper, The Woodley Leaves. "Similarly, these experiences taught me that publishing necessitates innovative problem solving," says Klugman. "The synergic environment our literary and artistic teams generated inspired my own creativity."
About a year ago, Klugman started writing for Eventing Connect (www.eventingconnect.today) a global eventing website published in Ontario, Canada. Recently promoted to Assistant Managing Editor, her responsibilities now include more managerial tasks, such as access to the back-end of the site and proofing the articles before they are published. She is also hoping to develop new, creative ways of presenting the material to the site's readers.
Between writing, riding, traveling, practicing on her piano, and preparing for her first year of college, Klugman managed to squeeze in a gig as a working student for Gold Medalist, Marilyn Little of Raylyn Farms, an international competitor in show jumping and eventing. Klugman gets to ride fabulous horses and receive instruction for her own two horses.
Klugman says she had no idea how vast an opportunity there was in equine publishing before learning of the Student Award contest on social media. She found networking during the seminar a valuable opportunity and looks forward to pursuing her freelance writing in the horse industry as well as at Duke.
Stephanie Church, Editor-in-Chief of The Horse and former AHP Student Award Winner, evaluated this year's Student Award applicants' resumes and wrote Klugman, "With your ambition, hard work, and talent, you're bound to go far in this industry." From one Student Award Winner to another, that is high praise.
Klugman was one of three students who were selected as AHP Student Travel Award winners and received $750 cash awards to attend the seminar in Orlando. The other two finalists were Kaitie Marolf, a print journalism major who will graduate from Kansas State University in May 2017, and Bianca McCarty, who is studying photography at Colorado Mountain College. Both young women are talented in their fields. Marolf won the AHP Equine Media Award for Student Equine Journalism and McCarty's photographs have been published in multiple equine magazines and calendars.
The Student Award Committee interviewed the three finalists in Orlando and selected Klugman as this year's winner. As the 2016 Student Award winner, Klugman received a framed certificate and lapel pin from American Horse Publications, $1,000 cash award from AIM Equine Network, and an all-expenses paid trip to a Two-Day Customer Education Seminar presented by Publishers Press, Inc. in Shepherdsville, KY. As runners-up, Marolf and McCarty were each presented with a cash award of $400 sponsored by AIM Equine Network.
The 2016 Student Award presentation was held on Friday night at the Student Award Party named Horsewarts School of Equine Media. The theme tapped into one of Orlando's most popular attractions, The Wizarding World of Harry Potter. "Re-creating the Great Hall at Hogwarts in a hotel ballroom was a fun challenge," says Chris Brune, AHP Executive Director. "While not every attendee was a Harry Potter fan, everyone experienced a magical evening and learned about the wizarding world." The three student winners received their own magical wand based on their favorite Harry Potter character.
Event sponsors for the evening were The Horse Media Group, Sidelines Magazine, Freedom Health's SUCCEED® and the Morris Media Network Equine Group publications, Barrel Horse News, Equine Journal, Quarter Horse News and Western Horseman.
The AHP Student Fund is supported by contributors and buyers at the silent auction held during the seminar. Proceeds fund three $750 Travel Awards to attend the annual AHP seminar to students pursuing a career in equine publishing as well as provide complimentary Student membership and seminar registration certificates to all Student Award applicants.
Shopping the Student Fund silent auction is always a fun activity for seminar attendees and this year's event offered a wide variety of over 90 items. AHP Student Program Coordinator, Judy Lincoln, organized this year's auction which raised $3,329. The raffle and sale of the ButterBrew signature drink added another $515 for a grand total of $3,844.
The highest bid item was an iPad Mini with custom seminar logo case donated by Horse Health and purchased for $195 by Jeremy McGovern. The second highest bid item was a helmet, sunglasses and gloves donated by Uvex and purchased by Jessica Hein for $180.
The silent auction is not possible without generous support from fellow AHP members and friends. The year's donors included: Jean Abernethy, Absorbine, Acuswede, Breyer Animal Creations, Kimberly Brown, Rick Buckley Racing Photographics, Certified Horsemanship Association, Susan Count, Draper Equine Therapies, Dressage Sport Boots, Elite Equestrian Magazine, Farnam, Freedom Health, Tracy Gantz, Gumbits, Marsha Hayes, Jessica Hein, Holistic Horse, Horse Illustrated, Jacksonville Equestrian Center, Marion Cultural Alliance, MediaRadar, Metlar Premium Performance Saddlery, Mid-Atantic Thoroughbred, NRHA, Noble Outfitters, Omega Alpha Pharmaceuticals, Premier Equestrian, Publishers Press, Johnny Robb, Sherry Ross, RSB Animal Health, Dave and Ann Russo, Schleese Saddlery, SmartPak, Larri Jo Starkey, Straight Arrow Products, The Chronicle of the Horse, Trafalgar Square Books, Uvex, Vita Flex, Weatherbeeta USA, Wellpride, Western Horseman, and World Equestrian Brands.
The auction items provided a great opportunity to shop for horse-related gifts and products. A big thank you goes to those who won the final bids: Jackie Baker, Summer Best, Jennifer Bryant, Gary and Marian Carpenter, Ann-Marie Chalmers, Liz Cornell, Alex De Armas, Janet DelCastillo, Christine Hamilton, Marsha Hayes, Jessica Hein, Mark Herron, Jaci Hoffmann, Erin Hsu, Julie Kitzenberger, Ema Klugman, Emily Koenig, Danielle Koren, Gary Lincoln, Kaitie Marolf, Elizabeth McCall, Jeremy McGovern, Christina Miller, Jen Miller, Katie Navarra, Shelley Partridge, L. A. Pomeroy,  Johnny Robb,  Sherry Ross, Christie Schulte, April Sellers, Susen Shields, Larri Jo Starkey, Catie Staszak, Abby Strawder, Noelle Vander Brink, Art Vasquez, Patrick Warczak, Christy West, Jan Westmark, Beth White, Holly Wiemers, and Gil Williams.
American Horse Publications offers students interested in a career in equine publishing with several opportunities to participate in its association. High school seniors and undergraduate college students pursuing a career in equine publishing are encouraged to compete for the 2017 AHP Student Travel Awards and Student Award. Guidelines and applications will be available in the Fall.
To request information about any of AHP's student programs, please contact: Judy Lincoln, American Horse Publications, (386) 760-7743, e-mail: ahorsepubs2@aol.com. Information is also available online at the AHP web site at www.americanhorsepubs.org under Students.
-30-
American Horse Publications is a professional association of horse publishing media. Its members include equine-related print publications and digital media as well as professionals, students, organizations, and businesses which share an interest in equine publishing.
Contact: Judy Lincoln
AHP Student Program Coordinator
(386)760-7743
Email: AHorsePubs2@aol.com
Posted in: