Emily Holowczak Named 2018 AHP Student Award Winner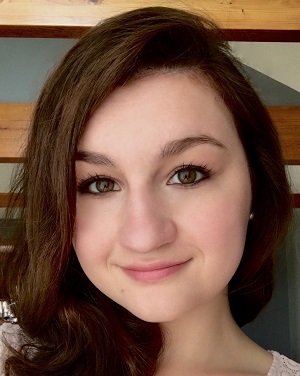 Emily Holowczak, the daughter of John and Janet Holowczak of Windsor, CT, became the 2018 AHP Student Award Winner on June 15, 2018 during the AHP Equine Media Conference in Hunt Valley, Maryland. Holowczak graduated from Mount Holyoke College in May 2018.
"I had such a wonderful time meeting new people, exploring career opportunities and developing my journalistic skills," says Holowczak. "Winning the Student Award was just the icing on the cake!"
Holowczak was one of three students who were selected as AHP Student Travel Award winners and received $750 cash awards to attend the AHP Equine Media Conference in Hunt Valley. The other two finalists were Alyssa Murphree, a recent graduate of Delaware Valley University, and Sarah Ryan, who currently attends State University of New York in Cobleskill.
"I feel lucky to have found AHP and become a member," says Holowczak. "Everyone I met at the conference was welcoming and willing to offer their expertise. As I continue my search for full-time employment, I feel confident in knowing that I have the support of AHP."
Ryan says, "Attending the 2018 American Horse Publications conference as a student travel award winner was an inspiring experience. I had the privilege of receiving invaluable feedback on my work and resume plus insights into career possibilities from a panel of friendly, knowledgeable AHP members."
"Being selected as a student award finalist and having the opportunity to attend the AHP conference was one of the greatest experiences of my young career," says Murphree. "Everybody was more welcoming and helpful than I could have hoped for and have inspired me to continue pursuing work in a great field among great people!"
Horse Radio Network's Glenn Hebert interviewed Murphree and Holowczak for the Horses in the Morning episode that was broadcast on Friday morning from the conference in Hunt Valley. Hebert told his audience how impressed he was to learn that Murphree had served on a college podcast club at DelVal and that Holowczak is already a published freelance journalist in Equestrian Living and Practical Horseman.
Erin Ryder Hsu, Marketing Director for Kentucky Equine Research and a former AHP student member, evaluated this year's Student Award applicants and selected the top three finalists as Student Travel Award winners. In her resume critiques to each finalist, Hsu wrote, "Holowczak shows real hustle and her writing samples are very well done, clean and enjoyable to read. Murphree has laid a foundation toward her career through internships, and the provided work samples are impressive. Ryan presents extremely high quality work with an impressive portfolio."
Hsu was also an advisor for the Careers in Equine Publishing for Students at the conference. She says, "I thought the student session was really useful – a few more young members popped in to share, which made it a nice group."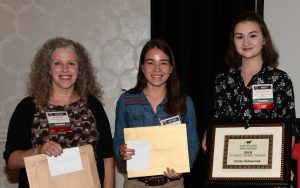 The AHP Student Award Committee interviewed the three finalists in Hunt Valley and selected Emily Holowczak as this year's winner. As the 2018 Student Award winner, Holowczak received a framed certificate and commemorative pin from American Horse Publications, and a $1,000 cash award from AIM Equine Network. As runners-up, Murphree and Ryan were each presented with a cash award of $400 sponsored by AIM Equine Network.
The 2018 Student Award presentation was held on Friday night at the Student Award Reception, sponsored by SmartPak and American Horse Publications. During the reception, attendees made their finals bids on a wide variety of over 100 items in the AHP Student Fund silent auction. AHP Student Program Coordinator, Judy Lincoln, organized the auction and raffle which raised $3,433 for the AHP Student Fund that supports up to three $750 travel awards to attend the annual AHP conference to students pursuing a career in equine publishing. The fund also provides complimentary Student membership and conference registration certificates to all Student Award applicants.
The highest bid item was a 55 inch Smart LED HDTV donated by Central Garden & Pet and purchased for $355 by Patrick Warczak Jr. of Freedom Health. The second highest bid item was an iPad Mini 4 with custom iPad mini cover also donated by Central Garden & Pet and purchased by Shelley Paulson for $275.
The silent auction is not possible without generous support from fellow AHP members and friends. This year's donors included: Jean Abernethy, Anatomy of the Equine LLC, Arabian Horse Trail, Banixx Horse & Pet Care, BloodHorse Publications, Boehringer Ingelheim, Breyer Animal Creations, Kimberly S. Brown, Rick Buckley, Carly Kade Creative, Carriage Association of America, Central Garden & Pet (Farnam, Horse Health Products, Vita Flex), Certified Horsemanship Association, Jennifer Denison, Dressage Today Online, Equine Network Store, Freedom Health, Tracy Gantz, Kathleen Haak, Harness Horse Youth Foundation, Horse Illustrated, Kimes Ranch Jeans, Maryland Horse Breeders Association, MediaRadar, New York Horse/Janis Barth, Omega 3 Innovations, Omega Alpha Equine USA, Shelley Paulson, Platinum Performance, Premier Equestrian, Barrie Reightler, Sherry Ross, Dave and Ann Russo, Schleese Saddlery Service Ltd., Shelley Marshall Schmidt, SmartPak, Speedhorse, Straight Arrow Products, The Chronicle of the Horse, TheraPlate Revolution, Trafalgar Square Books, Triple Crown Feed, Western Horseman, Jan Westmark, and Margaret Worrell.
The auction items provided a great opportunity to shop for horse-related gifts and products. A big thank you goes to those who won the final bids: Whitney Allen, Jennifer Bryant, Annie-Marie Chalmers, Sarah Conrad, Kay Coyte, Kathy Dando, Keith Dane, Diana De Rosa, Cindy Deubler, Erin Dunningan, Cheryl Erpelding, Emily Esterson, Ashyn Flanagan, Katie Frank, Amy Hempe, Carly Kade, Devon Katzer, Peter Kirby, Emily Koenig, Lori Lampert, Rhonda Lane, Fran Levy, Janet MacDonald, Heidi Melocco, Kim Miller, Katie Navarra, Valerie Ormond, Julia Oughton, Lindsay Paulsen, Shelley Paulson, Bryan Quinsey,
Allison Rehnborg, Barrie Reightler, Johnny Robb, Sherry Ross, Sabine Schleese, Karen Schell, Patti Schofler, Anna Sochocky, Abby Strawder, Suzanne Sylvester, Ellen Taylor, Jana Thomason, Heather Wallace, Patrick Warczak Jr., Jan Westmark, Beth White, Joann Wieber, Holly Wiemers, Sarah Williams, and Lisa Wysocky.
American Horse Publications offers students interested in a career in equine publishing with several opportunities to participate in its association. High school seniors and undergraduate college students pursuing a career in equine publishing are encouraged to compete for the 2019 AHP Student Travel Awards and Student Award. Guidelines and applications will be available in the Fall.
"Thank you again for all that you do, especially for student members," says Holowczak. "When I discovered AHP about two years ago, I never thought I could be the 2018 Student Award winner!"
To request information about any of AHP's student programs, please contact: Judy Lincoln, American Horse Publications, (386) 760-7743, e-mail: ahorsepubs2@aol.com. Information is also available online at the AHP web site at www.americanhorsepubs.org under Students.
Posted in: