Renowned Equestrian David O'Connor Receives Sixth Annual Equine Industry Vision Award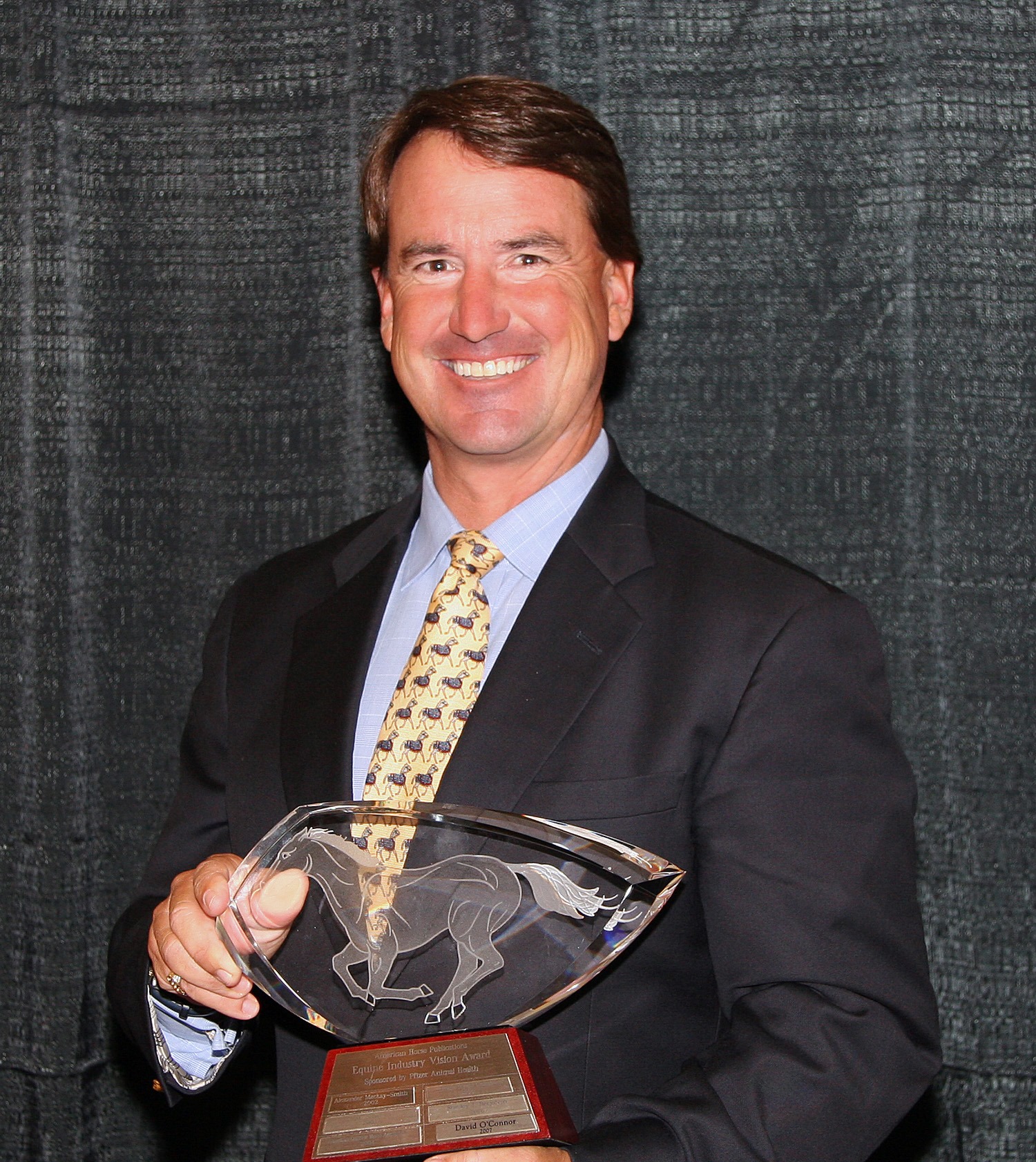 Pfizer Animal Health and American Horse Publications (AHP) presented David O'Connor with this year's Equine Industry Vision Award at a ceremonial breakfast held during the AHP Fiesta Del Caballo seminar in Albuquerque, NM. Established in 2002, the Equine Industry Vision Award was the first of its kind to showcase innovation and recognize ingenuity and service across the entire equine market.
As a consecutive top finalist for the award, O'Connor earned this honor for his outstanding achievements as an equestrian and his contributions as a role model and administrator in the industry. Best known for his Olympic accomplishments and his work as president of the United States Equestrian Federation (USEF), O'Connor is a true leader who is recognized and well respected throughout the equine world.
"David O'Connor exemplifies the innovative spirit and industry leadership that the Equine Vision Award serves to recognize," said Kristin Ruff, Equine Products Manager for Pfizer Animal Health. "His endless dedication and insight have helped shape the equine world, particularly the sport of Eventing."
Son of renowned dressage judge and equestrian, Sally O'Connor, David was brought into the horse world at a very young age. At eight, he made his Eventing debut mounted on his pony mare, Bramble. Just a few years later, the O'Connors embarked on a three-month horseback riding trek from Maryland to Oregon — providing David with invaluable riding experience that helped set the foundation for the equestrian he is today.
As an adult, O'Connor rose through the ranks of international Eventing's CCI trials, graduating to the elite CCI*** ("three star") and Olympic-qualifying CCI**** events such as Fair Hill International at Fair Hill, MD, Rolex Kentucky Three-Day Event in Lexington, KY, and the esteemed Badminton Horse Trials in Badminton, England. Competing on the United States Equestrian Team since the late 1980s, he earned three Olympic medals — one of every color — two Pan American Games medals, and two World Championships. He has won Rolex twice as a three-star and once as a four-star. He also won Fair Hill International CCI*** five times, and in 1997, became only the second American in history to win the coveted Badminton CCI****. Even with all these accomplishments, he may be best known for bringing home the first Eventing Gold Medal for the United States in more than a quarter of a century — when he clinched the individual Eventing Championship on Custom Made at the 2000 Olympic Games in Sydney, Australia —  with the best score in Olympic history.
In addition to being a remarkable equestrian, O'Connor has maintained strong involvement in the administrative side of the sport. He has overseen the unification of horse organizations in the U.S. under one governing body — United States Equestrian Federation (USEF). In 2003, he was awarded the prestigious Wofford Cup, which is given to individuals who have made outstanding contributions to the sport of Eventing in a non-riding capacity.
In 2004, O'Connor officially retired from international competition. He was re-elected as president of USEF for the 2005-2009 term, and in this capacity works closely with the Fédération Equestre Internationale (FEI), which is the governing body for all non-racing horse sports. As president, he serves as the official spokesperson of the Federation on all matters relating to it governance and direction. In addition, he serves as the lead executive and administrator of the Board of Director meetings; provides services as a liaison between the numerous directors of the breeds and disciplines that, together, form the Federation; and provides guidance in relation to establishing and enforcing policies set forth by the rules and regulations of the Federation.
Outside of the USEF, O'Connor is the husband of Olympian Karen O'Connor. Both David and Karen coach their students and staff in what they refer to as OCET — the O'Connor Equestrian Team. Also, he is currently the main clinician for the Canadian Event Team and has become a cross-country course designer for venues such as the Virginia Horse Center CCI*/CCI**, North American Young Riders' Championships (NAYRC) at the Virginia Horse Center in Lexington, VA., Maryland Combined Training Association (MCTA) Horse Trials and CCI*** in Maryland, Colorado Horse Park CCI*, the Three Day Horse Trials in California, and the Rubicon Horse Trials in Virginia.
"David is an extraordinary individual who has given years of service and made quite an impression on many fellow equestrians," said Ruff. "We are so pleased to honor him as one of the great leaders and visionaries of our industry."
The other finalists in this year's Equine Industry Vision Award included Stacy V. Bearse, G. Marvin Beeman, DVM, Charlotte Brailey Kneeland, Louisiana State University Equine Health Studies Program, Matthew Mackay-Smith and Linda Tellington-Jones.
Posted in: