Sally Swift Honored with Seventh Annual Equine Industry Vision Award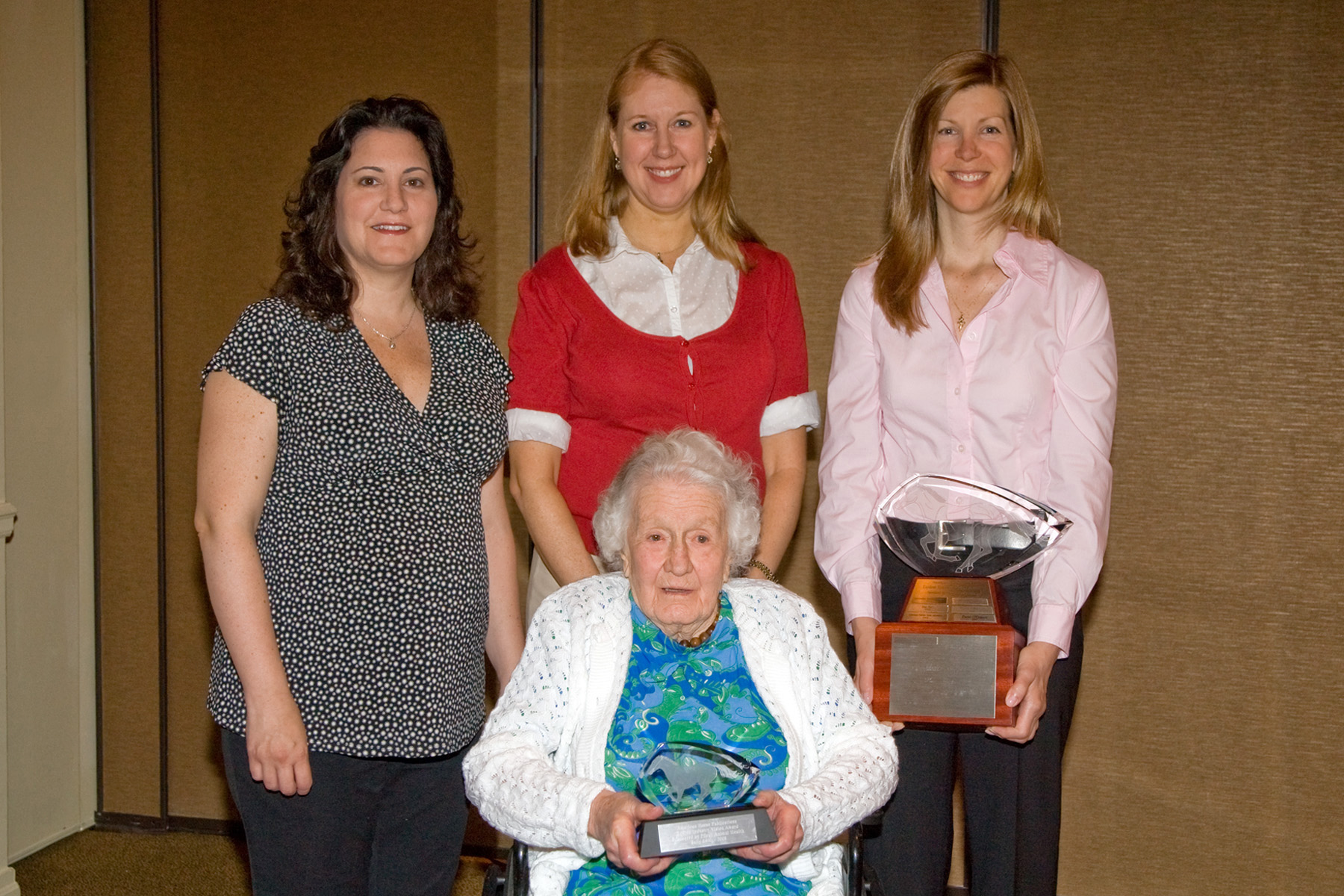 Pfizer Animal Health and American Horse Publications (AHP) presented Sally Swift with the seventh annual Equine Industry Vision Award at a ceremonial breakfast held during the AHP Break from the Gate in 2008 seminar in Saratoga Springs, NY. Established in 2002, the Equine Industry Vision Award was the first of its kind to showcase innovation and recognize ingenuity and service across the entire equine market.
At 95, Swift earned this honor for having a revolutionary impact on horseback riding worldwide in the twentieth century. Best known as the founder of the Centered Riding(R) method used by riders across all disciplines, Swift is a true visionary whose legendary work will continue to impact the equine world long beyond her years.
"Sally Swift is yet another outstanding example of the innovation, vision and leadership that the Equine Industry Vision Award serves to recognize," said Kathy Miranowic, Equine Products Manager for Pfizer Animal Health. "Her profound insight on Centered Riding has helped transform the equine world's understanding of mind and body in connection with the horse."
Swift was born on April 20, 1913 in Hingham, Massachusetts to Rodman Swift and Elizabeth Townsend Swift. She was named after her grandmother, Sarah Rodman Swift. However, because she had a cousin also named Sarah, her nickname became Sally3.
Horses were introduced to Swift's life at a very early age. From the time she was two or three she would sit on the back of the garbage man's horse. Then, once she became a little older, her mother – also an avid horse enthusiast — rented a horse for a month in the summer. Every summer they would rent the same horse, Helen Kingbolt. The Swifts kept the horse up on a hill at their neighbor's barn where they rented a standing stall. Down the road there was a side road with no traffic, called Martin's Lane, where they would take Helen to ride3.
At age 7, Swift was diagnosed with scoliosis, a lateral curvature of the spine. >From that time and through her early 20s she worked with a therapist named Mabel Ellsworth Todd, author of The Thinking Body3. It was through her work with Todd that Swift began an understanding of body awareness and imagery that became the Centered Riding(R) method and her life ambition.
After graduating from Milton Academy, Swift taught traditional riding for twelve years before changing careers. It wasn't until she retired from the American Holstein Association, at age 62, that teaching and riding came back into play2. She planned to teach a few close friends. However, as she developed her Centered Riding techniques, the demand for Centered Riding clinics and instructor clinics blossomed. Before long, she was traveling all over the world teaching many people. Now those teachers are educating new teachers across the United States, Canada, Australia and Europe.
In 1985, Swift's groundbreaking book Centered Riding was released. Since then the book has been translated into fourteen different languages. In addition, two Centered Riding videos were released in 1986 and are still in the top five of Trafalgar Square Books' best selling program. A second book, Centered Riding 2: Further Exploration, was published in 2002 and has been published in nine foreign countries1. Together, the two books have sold over three-quarters of a million copies.
"I am blessed with the feeling that my life and dreams have come full circle," said Sally Swift. "Centered Riding is not about lofty ideals or selling books. For me, Centered represents all that is good in today's world, and the people I have come to know through this "centered" journey have become my friends and family. I realize today that Centered Riding was my vision of what can be when we tear down the human armor and give a little of ourselves to one another and our four-legged friends4."
Swift also worked with the Alexander Technique, which enabled her to discard the back brace she had worn for many years while riding or performing other activities. The Alexander Technique is a method of re-educating the mind and body towards greater balance and integration with special reference to posture and movement2. This technique didn't change any of her four basic principles but rather added significantly to the depth and subtlety of her teaching.
In addition to her teaching, Swift founded Centered Riding(R) Inc., an organization with members from around the world and a certification program for instructors of the Centered Riding(R) method. The instructor program, also founded by Swift, is now taught by Level IV instructors who either apprenticed directly with Sally (1986-1991) or with at least two level IV instructors2.
"Swift is an inspiration to her peers and aspiring riders around the world," said Miranowic. "Her vision and techniques have imprinted the equine world, while her determination and strength to overcome her personal challenges is truly admirable."
The other finalists for the 2008 Equine Industry Vision Award included Matthew Mackay-Smith, DVM, Linda Tellington Jones, G. Marvin Beeman, DVM, Louisiana State University Equine Health Studies Program and Charlotte Kneeland.
1Cook, Martha. 2008 Equine Industry Vision Award Nomination. 18 Dec. 2007.
2Sally Swift. 2005. http://www.centeredriding.org/sallyswift.asp.
3Swift, Sally. Sally Speaks: Growing Up Sally Swift. http://www.centeredriding.org/articleshow.asp?story=107&titleimage=
4Swift, Sally. Sally Speaks: What Centered Riding Means to Me. http://www.centeredriding.org/articleshow.asp?story=106&titleimage=
Posted in: