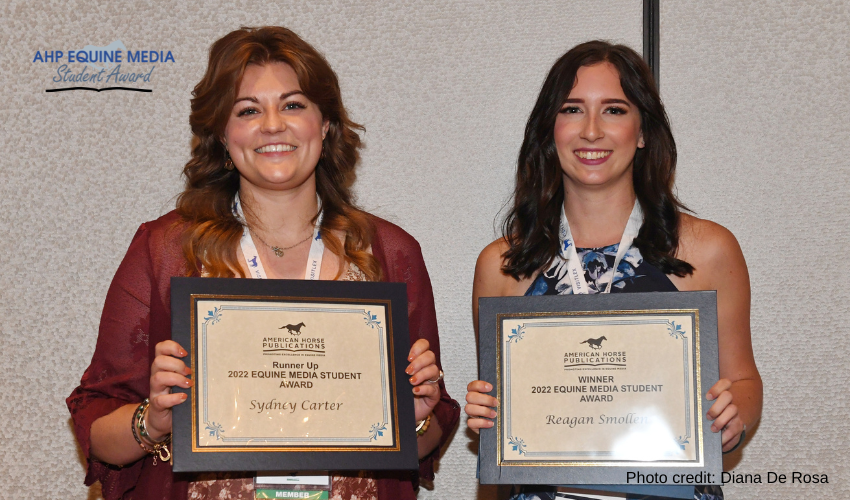 (l-r) Sydney Carter, 2022 Student Award Runner Up; Reagan Smollen, 2022 Student Award Winner
Horses and equine media make a cool career.
Applications are now open for the 2023 AHP Equine Media Student Award.
Are you eligible to apply?
Yes, if you are a senior in high school or an undergraduate matriculated* college student under the age of 25, pursuing a career in equine media during the 2022-2023 school year, with at least one semester remaining before graduation at the time of application. You must have a 2.00 GPA or higher.
*A matriculated student is one who has applied for and been accepted in a specific degree program through their college's Admissions Office. Enrolled students in good standing must take a minimum of 9 credits and not exceed 18 credits per semester.
NOTE: The AHP Equine Media Student Award Contest is open to residents of the US and Canada only. Former Student Award Winners are ineligible; eligible Travel Award Winners may re-apply.
Application Deadline
All entries must be submitted electronically no later than February 14, 2023
As an award winner you will …
Meet, network, and participate with publishers, editors, advertising, production, and marketing managers. You will attend workshops, interactive discussions, lectures, and informal get-togethers. This eye-opening conference will inform and enlighten you about the opportunities available and skills needed for someone interested in pursuing a career in equine media.
Have an opportunity to discuss your talents and potential with the decision-makers who do the hiring. Conversely, those professionals will be evaluating and appraising you as a future employee or service provider.
Requirements
Completed application form, plus:
1. Transcript of high school or college work completed and list of courses currently in progress.
2. A 200-word (maximum) biographical sketch detailing your equine background, media experience, and career plans.
3. Three samples of your work, i.e. news or feature articles, advertisements, photographs, artwork, visual media, etc., published in print or online. (Classroom or published material acceptable.)
4. Two letters of recommendation from individuals such as instructors and employers.
5. Resume that includes a list of scholarships and awards received, club and other organization memberships, and extra-curricular activities, employment record, including current job(s).
Incomplete applications are disqualified.
All application materials must be received electronically.
Acceptable file formats: PDF, jpg, mp4, mp3, Word or Google doc, links to samples
Online submissions only.
E-mail application and required materials by February 14, 2023 to:
Judy Lincoln, AHP Student Award Coordinator, ahorsepubs2@aol.com
Questions
Contact:
Judy Lincoln, AHP Student Program Coordinator
(386) 760-7743
E-mail: AHorsePubs2@aol.com
Selection
The AHP Equine Media Student Award Judge will evaluate and compare your entry with other candidates based on the following criteria:
Interest in horses and media
Relevant experience
Skills and abilities
Career goals and confidence
Will be a deserving representative as an ambassador for AHP and equine media
Applicants are scored based on the selection criteria. Up to three students may be selected to receive a $1,000 travel award for attending the Tempe, Arizona conference. Winners of travel awards MUST attend the 2023 conference to receive their award. The Student Award Committee will interview the travel award winners on Thursday afternoon. AHP will announce the 2023 Student Award winner during the conference.
Travel Award Winners
A travel award of $1,000, a complimentary conference registration* and student membership* will be awarded to up to three applicants. Travel Award winners have an opportunity to participate with equine media professionals in a three-day conference and related activities at the AHP Equine Media Conference in Tempe, Arizona on June 22-24, 2023.
Travel Award winners must agree to attend the conference, arriving by Thursday morning and departing no earlier than Sunday to receive the award.
2023 AHP Equine Media Student Award Winner
The winner will receive a cash award of $1,000 and be named the 2023 AHP Equine Media Student Award. Runners-up may also receive a cash award presented by Equine Network, LLC.
All qualified applicants will receive a complimentary student membership* and a student registration* certificate for the annual conference in Tempe, Arizona on June 22-24, 2023.
*Registrations and memberships are not transferable.
AHP offers other opportunities…
Student Membership is available to high school, college, and graduate students under the age of 25 for dues of $35. Students are profiled in the online AHP Membership Directory, have access to the Members Only area of the AHP website, and may attend the annual conference at a reduced registration. To join: https://www.americanhorsepubs.org/become-an-ahp-member/
AHP Internship Program offers college students an opportunity to intern at equine-related media or business and gain valuable hands-on work experience. The AHP Internship listings and application are available online at https://www.americanhorsepubs.org/internship-program/
For more information, contact Judy Lincoln, AHP Student Program Coordinator at ahorsepubs2@aol.com