AHP Members Partake in First-Ever Regional Workshop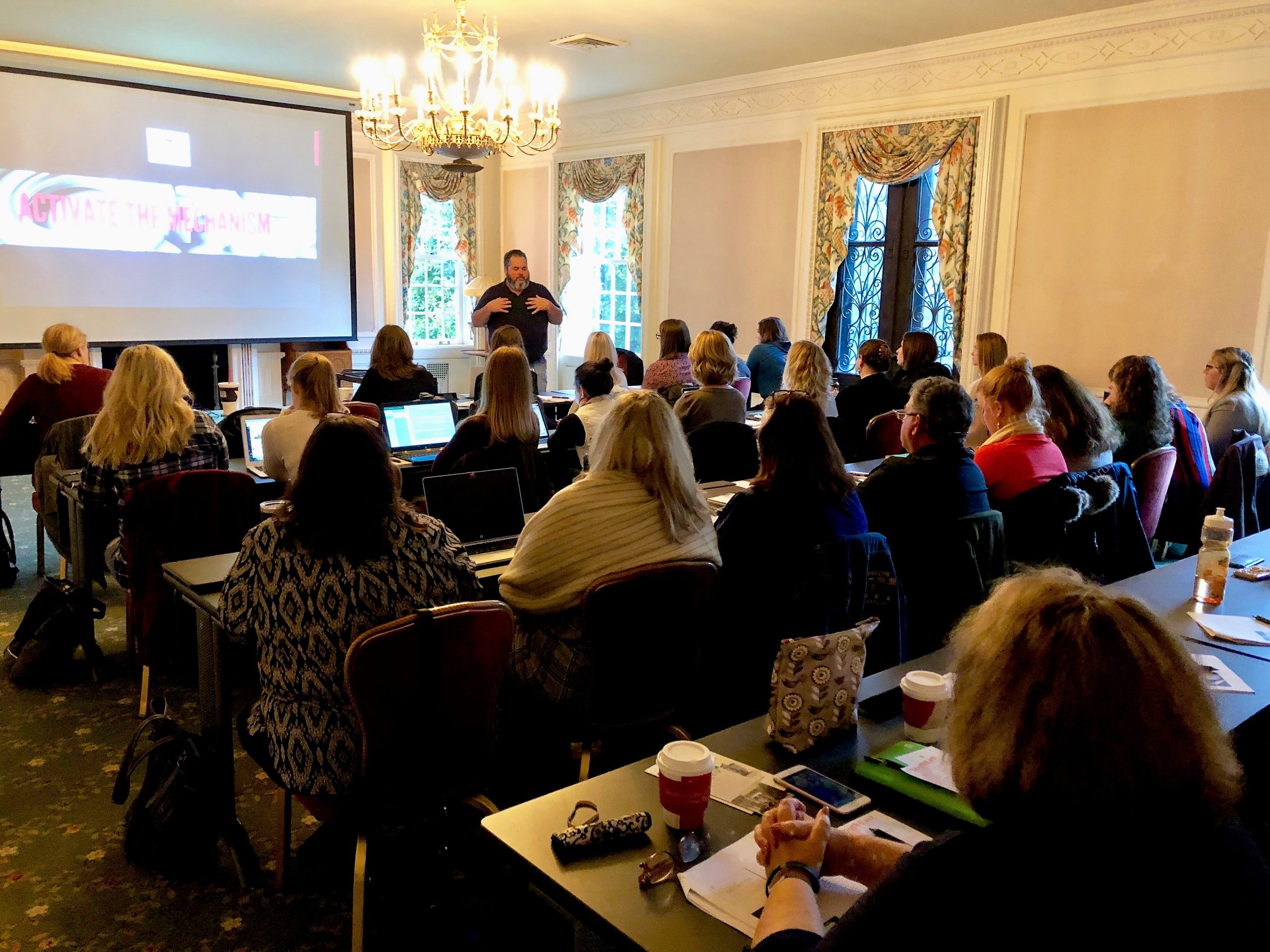 American Horse Publications (AHP) members gathered in Lexington on October 15 at The Club at UK's Spindletop Hall, in Lexington, Kentucky, for its first-ever regional workshop.
Thirty-three AHP members from the Lexington area, as well as the surrounding states of Ohio, Indiana and West Virginia, participated in a one-day social media marketing workshop presented by award-winning digital strategist and best-selling author, Jason Falls. "The No-Nonsense Guide to Social Media" focused on not only teaching the ins and outs of smart social media marketing, but also on how to leverage social media tools, tactics and talents to vie for viewers, readers and advertising dollars. The workshop lasted about eight hours, and offered a relaxed luncheon buffet to allow attendees time for networking with AHP friends, old and new.
"While I always appreciate the networking at AHP events, this was hands-down the most relevant, useful presentation I've seen," says Erin Hsu, Marketing Director for Kentucky Equine Research. "The longer format was really valuable and enabled a deeper dive than typical annual speakers."
"I loved that Jason provided real examples and applications of tools and strategies, not just theory," says Megan Lacy, Managing Director of the United States Hunter Jumper Association. "Oftentimes at social media conferences, you hear a lot about how to think about the strategy and not enough about the practical implementation. I thought he gave a great mix of theory and application."
The AHP Regional Workshop was developed to continue the education and networking opportunities for AHP members throughout the year in areas where there is a concentration of members. The Board selected Lexington as the site of its first workshop and solicited the help of local members to form a committee.
The AHP Regional Workshop Lexington committee was instrumental in making this first AHP workshop a reality and a success.  The committee members included: Chairman Judy Lincoln, Carol Aldridge, Chad Mendell, Emily Alberti, Erin Hsu, Lynette Schneider, Megan Arszman, Milt Toby and Sarah Evers Conrad. AHP also received local support from the UK Ag Equine Program and Southeast Printing & Mailing.
"It was the most helpful, practical, pleasant workshop I have ever attended. It definitely exceeded my expectations, and I appreciate having had the opportunity to attend," says Cindy Rullman, former Annual Gifts Officer for Brooke USA. "Great value for the money."
"The annual AHP Equine Media Conference has been a must-attend event for members for nearly 50 years," says Chris Brune, AHP Executive Director. "We wanted to create more opportunities for professional development and for members to network with their peers on a year-round basis. The response to our first regional workshop was exactly what we wanted."
AHP Regional Workshops are planned for 2019.
About American Horse Publications (AHP)
AHP has united equine-related publishing media, businesses, professionals, colleges, and students for nearly 50 years. The non-profit professional association promotes excellence in equine publishing media and encourages relationships and communication to increase interest in the horse industry. For more information, visit the www.americanhorsepubs.org.
To learn more about the benefits of becoming a member of AHP, visit https://www.americanhorsepubs.org/become-an-ahp-member/ or email Executive Director Chris Brune at ahorsepubs@aol.com.
Posted in: