American Horse Publications Membership Can Benefit Your Equine Business or Career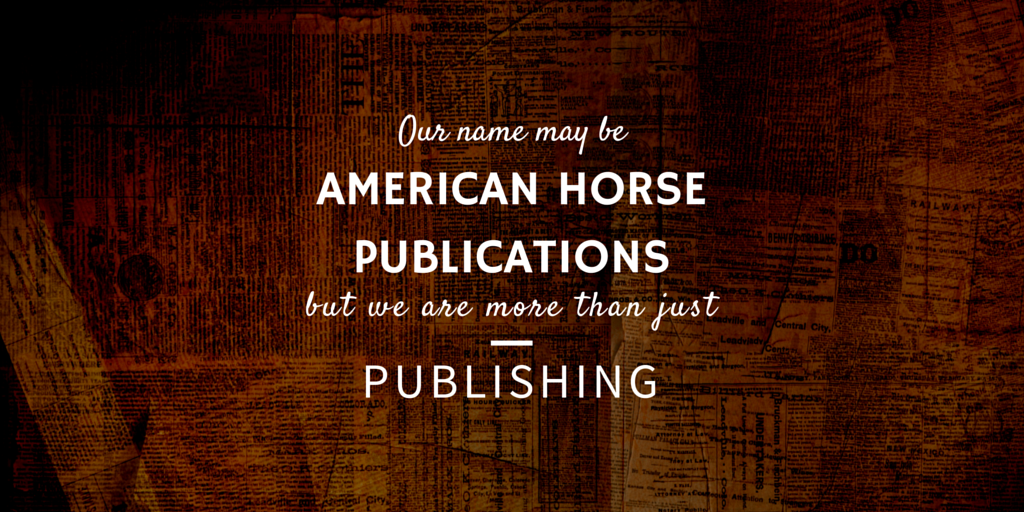 Become an AHP Member at Half Year Rate
American Horse Publications (AHP) has united equine-related publishing media, businesses, professionals, colleges, and students for nearly 50 years and here is your chance to join at the half year rate. Half year membership is available from July 1 through December 31 to new members. Rates are based on half the cost of annual dues for the eligible membership category. Membership will renew at the annual rate.
The best way to learn why you should become an AHP member is to read what others say about their experience.
One of AHP's new nonprofit members is the National Sporting Library and Museum (NSLM), a full research library, historical periodicals, and much more. NSLM Librarian John Connolly attended the 2016 AHP Seminar in Orlando, FL, in June. "… as a new member, I really felt accepted into the group," he shared. "AHP membership has been a great way to get the word out about our collections, programs, and content, and it has been a great way to build partnerships within the community."
Cheryl Erpelding, founder of California Riding Magazine and sales manager at MPM Publications, has served on the AHP Board of Directors and as AHP President since she joined in 2000. Erpelding, who was honored as the AHP Chris Brune Spirit Award winner in 2015, commented, "The seminars have always given me good ideas for California Riding Magazine, and we were regular award winners in the annual awards contest."
Erpelding agreed that the annual AHP Seminar has been invaluable to her. "It is the best networking for horse media professionals," she said. "I have made lots of friends and met new advertisers."
Erpelding also shared her thoughts about one of the organization's most popular benefits for members, which is the press release service, which allows members to receive and send press releases to equine media. "AHP is worth the money in just receiving all of the press releases that are sent out every month," said Erpelding.
Jessica Hein, Director of Publications for the American Paint Horse Association (APHA), said that APHA loves sending staff to the annual AHP Seminar. "Packed with opportunities for learning, brainstorming, networking and fun, we feel it's a great use of our continuing education budget," she added. "We always leave energized, brimming with new ideas we can take home to help improve our publications."
Hein, who was the 2003 AHP Student Award Winner, has come a long way with her career in equine publishing and directly credits AHP with her role in the equine media industry. "A former student member, I was afforded the opportunity to make valuable industry connections via the annual AHP conference, the AHP internship program, and the Student Award Contest. My first freelance assignments, and later my first job in the media industry, came from connections I made through AHP."
Hein added, "We love the annual awards contest—not only for the award recognition, which is great for marketing our publications, but also for the critiques," said Hein. "It's extremely beneficial for our staff to receive honest feedback from industry experts about our work, see how we stack up in the greater horse industry, and simulate new ideas for design, composition, and coverage based on other successful entries."
Chris Johnson, owner of Eastern Hay, has already seen benefits from his AHP business membership. "Joining AHP was a great move for Eastern Hay," said Johnson. "Our press releases are sent out promptly and have been picked up by major players such as The Holistic Horse, Julie Goodnight Horsemanship, veterinarians, and the University of California at Davis. I'm very happy with the benefits our membership has brought us."
AHP membership benefits include:
Access to the AHP website, with a members-only area
Affiliation with a national equine publishing media group
Opportunity to attend one of the most affordable seminars available in the publishing industry
Exclusive benefit for submitting and receiving timely equine industry news
Free listing in the online AHP Membership Directory
Free listing in AHP Internship online program
Eligibility to enter the AHP Equine Media Awards competition
Free job postings to AHP CareerTrack
Participation in AHP Members Only Facebook Group Page
Access to instructional and educational webinars on publishing and business topics
To take advantage of the half-priced offer, visit www.americanhorsepubs.org/become-an-ahp-member.
###
American Horse Publications was founded in 1970. AHP membership includes equine-related publishing media, professionals, businesses, organizations, and students. For more information, visit our website: www.americanhorsepubs.org or contact Chris Brune at ahorsepubs@aol.com or 386-760-7743.
Contact:
Christine W Brune
Executive Director
ahorsepubs@aol.com
386-760-7743
Posted in: