AHP Names 61 Finalists in 2023 Equine Media Awards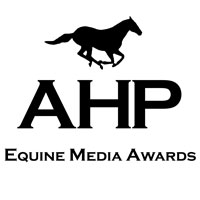 One of the most anticipated events during the annual AHP Equine Media Conference is Saturday night's Awards Dinner and Presentations at the Meet at the Mesa Conference in Tempe, Arizona. On June 24, 2023, the wait will be over for 61 finalists recognized for excellence in the material they published in 2022.
Submissions to the 2023 Equine Media Awards totaled 515 entries from 87 AHP members. Finalists represent 26 Media Industry members, 25 Media Professional members, and 10 Business members who have advanced to the top five in one or more of the 54 classes.
The AHP award contest, held since 1976, allows members to enter their best content from the previous year. A pool of media professional judges review the submissions and provide constructive comments on every entry.
"AHP Members strive to provide quality content in an ever-changing media environment," says Chris Brune, Awards Coordinator. "Finalists represent a broad spectrum of media, including print and online journalism, digital media, photography, videography, podcasts, books, and more. This collective body of work does a stellar job of educating, informing, and entertaining equine enthusiasts and horse owners."
More information available on becoming an AHP member and attending the 2023 Equine Media "Meet at the Mesa" Conference.
Congratulations to the following AHP members who are Equine Media Award finalists for 2023.
MEDIA INDUSTRY MEMBERS
American Farriers Journal
Barrel Horse News
BloodHorse
Canadian Horse Journal
Chrome
EquiManagement
EQUUS Magazine
EQUUS Television Network
Hoofcare Publishing
Horse Illustrated
Horse&Rider Magazine
Keeneland Magazine
Mid-Atlantic Thoroughbred
New Bridge Polo
NRHA Reiner Magazine
Off-Track Thoroughbred Magazine
Paint Horse Journal
Practical Horseman
Quarter Horse News
Sidelines Magazine
The American Quarter Horse Journal
The Florida Horse
US Equestrian Magazine
USDF Connection
USHJA In Stride
Western Horseman
MEDIA PROFESSIONAL MEMBERS
Megan Arszman
Janis Barth
Abigail Boatwright
Jennifer Bryant
Kate Bradley Byars
Paige Cerulli
Jade Currid
Jennifer Denison
Susan DiFelice
Christina Keim
Kathryn Lauritzen
Douglas Lees
Elizabeth Moyer
Katie Navarra
Julianne Neal
Shelley Paulson
Kristin Pitzer
Allison Rehnborg
Natalie Keller Reinert
Chelsea Schneider
Anna Sochocky
L.A. Sokolowski
Julie June Stewart
Lucile Vigouroux
Heather Wallace
AFFILIATE BUSINESS & NONPROFIT MEMBERS
Athletic Equestrian
Boehringer Ingelheim
Freedom Health, LLC/SUCCEED
Kentucky Equine Research
National Cutting Horse Association
National Museum of Racing and Hall of Fame
Platinum Performance, Inc.
Straight Arrow Inc.
United States Hunter Jumper Association
Valley Vet Supply
American Horse Publications (AHP) has united equine-related publishing media, businesses, media professionals, and students for over 50 years. The professional membership association promotes excellence in equine media and encourages relationships and communication within the horse industry through education and networking. For more information, visit www.americanhorsepubs.org.
Posted in: