American Horse Publications Board Members Meet in Scottsdale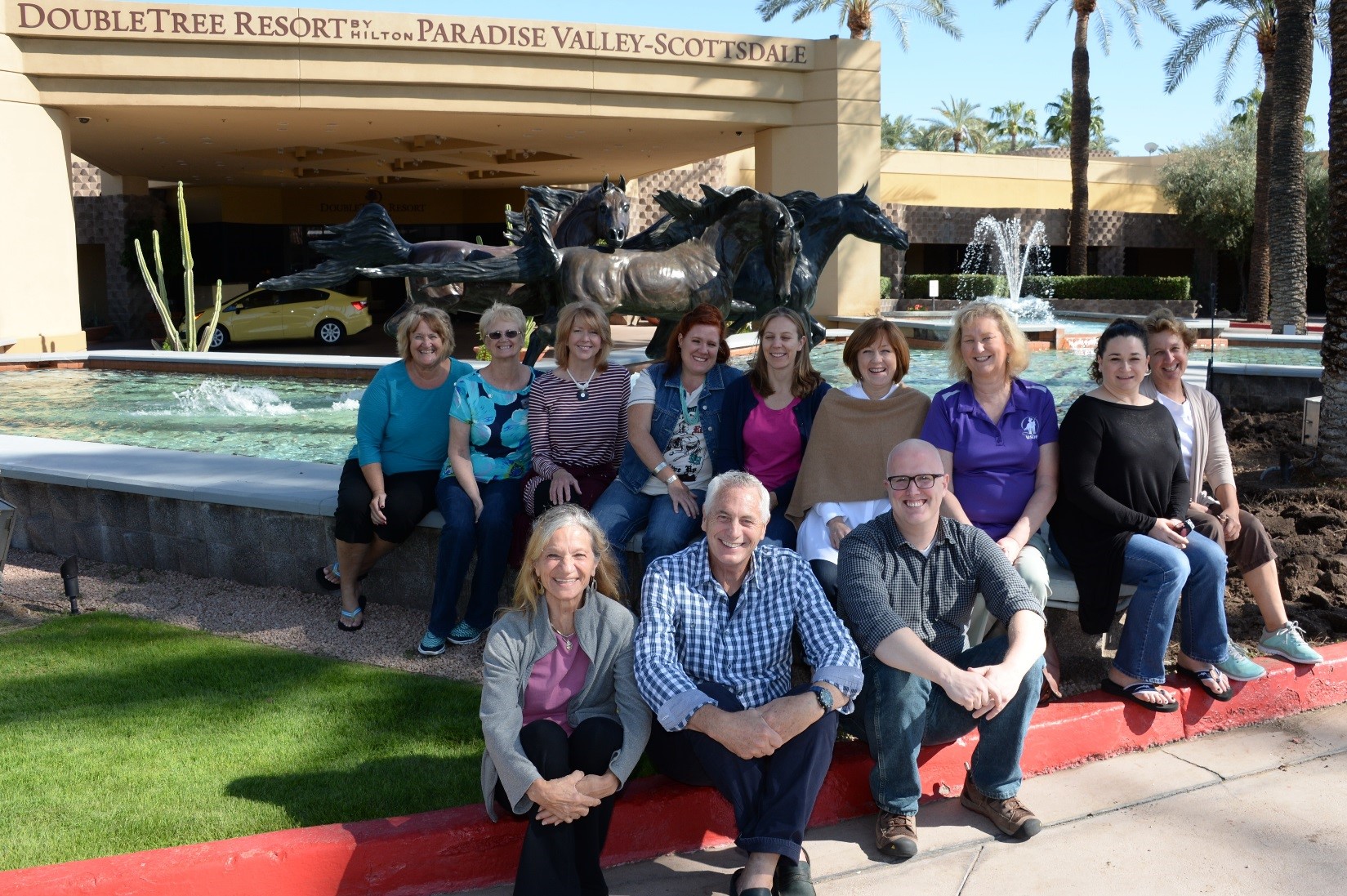 The board of directors of American Horse Publications had its annual board meeting on October 21-22 in Scottsdale, Arizona. One full day was dedicated to planning for the 2016 Seminar in Orlando, Florida, June16-18. A total of 12 board members attended the meeting from across the United States and included freelance writers and photographers, editors, publishers and more, all with an equine focus.
This annual meeting helps to shape the future of the organization, which is ideal for anyone wanting to meet and network with media and businesses and services that cater to the horse community.
The board members are a dedicated group and each member puts a lot of time and energy into this organization because they believe in its overall mission. Here are some of the reasons they support and work hard to uphold the goals of the American Horse Publications.
AHP President, Patrick Trowbridge (CA), Vice President & Group Publisher  of i5 Publishing noted, "The surveys from our members was our roadmap for creating our guide for sessions in the 2016 seminar that would benefit all.  The seminar is for our members to offer a great place to network and learn new ways to better ourselves in our industry. We are looking to have a great attendance for our 2016 seminar in Orlando."
Barrie Reightler (MD), Director of Publications Advertising & Design for the Mid-Atlantic Thoroughbred supports the organization because of what she's observed over the years.
"I have been an AHP member for 31 years and I can attest that as a professional association goes, AHP can't be beat. In all the seminars I have attended over the years, never once did I go away 'empty-handed' (or empty-headed). The friendships and business ties that have accumulated over the years are invaluable. Yes, I read industry periodicals to keep up to date on latest trends and practices, but in taking advantage of educational opportunities offered by AHP, whether it be seminars, webinars or the website, it all gets pulled together to make sense for me as a very small publisher. The time and money my company invests in AHP pays for itself ten times over."
Karen Tappenden (PA), Co-Publisher of Holistic Horse Media, echoed Barrie noting, "AHP has been invaluable to the growth of our small publication.  Each conference we attend sparks new and innovative ideas for growth as we venture the changes in our industry."
Board member and freelance writer, Katie Navarra (NY), was totally impressed with this year's board meeting commenting, "It's an honor to serve on the AHP Board, a group committed to providing invaluable networking and educational benefits for its members. This meeting in particular was exciting as we began planning for the 2016 Seminar. We have quite a line up for speakers!"
Lori Wilson (CA),, who handles sales for the California Horsetrader  is also a new board member and noted, "American Horse Publications is a tremendous resource to the horse industry. I'm honored to be a part of an organization where open discussions and education create a better understanding of where our industry is headed; and how to better prepare to provide the best product to our readers and advertisers."
Another newly added member, Jennifer Denison (CO), Senior Editor of Western Horseman added, "AHP is the reason I work in the equine publishing industry. As a past AHP Student Award winner, I've had the chance to interact with members before and throughout my career. They've encouraged me, hired me and inspired me. There isn't a better way to network with equine publishing professionals and continue your education in this field than to be a part of AHP."
Jeremy McGovern (WI) was there in his position as Executive Editor of the American Farriers Journal. He too echoes his praises for how the AHP has helped him and his magazine.
"There has been no greater benefit to my career than the AHP and this is for one single reason: the members. No matter what area of equine publishing or equine business, every member has the potential to contribute to the betterment of our industry. No other group I've belonged to is as welcoming as the AHP. Whether you are a student or career publisher, your input is valued and appreciated. This generates a collaborative effort that improves our publications or business and ultimately benefits the horses that we serve."
"Now is a great time for new members to join American Horse Publications," says Chris Brune, AHP Executive Director. First-time members can join at the annual rate and receive members-only benefits that will be good through December 31, 2016. Online applications are available to eligible equine-related publishing media, freelancers, businesses, colleges and students. I'm always happy to discuss AHP and membership, so email me at ahorsepubs@aol.com or call me at 386-760-7743."
For more about the American Horse Publications recently re-launched website, visit https://www.americanhorsepubs.org/ for a video tour of the site.
(PHOTO COURTESY OF DIANA DE ROSA)
Top Row: Judy Lincoln, Chris Brune, Lori Wilson, Jennifer Denison, Katie Navarra, Kathy Dando, Emily Koenig, Whitney Allen, Karen Tappenden
Front Row: Diana De Rosa, Patrick Trowbridge, Jeremy McGovern
Not shown: Stephanie Church
Posted in: