Ellen Kiser Celebrated as AHP Chris Brune Spirit Award Winner in 2007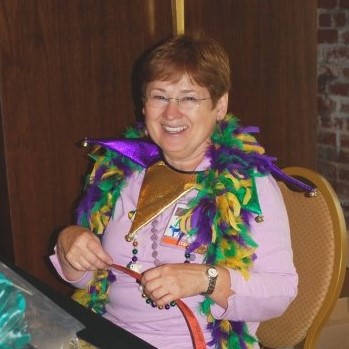 In 2004, Stacy Bearse, BloodHorse Publications, allowed his administrative assistant, Ellen Kiser, to attend the Lexington seminar to assist the AHP staff for a week. For the next eight years, she would become a smiling face to welcome attendees at registration.
Ellen immediately claimed the Student Award Silent Auction as her project. She worked to collect items before the seminar, sold raffle tickets, and ran the auction from start to finish as smoothly as a well-oiled machine.
Every hotel staff fell in love with her positive attitude and southern charm. She made magic happen and everyone loved working with her.
The only seminar she missed was the one where we surprised her via video with the announcement that she had joined the AHP Spirit Team. She was a deserving candidate and forever a part of the AHP spirit squad.
AHP Spirit Award announcements always start with the team cheer "We got spirit, yes we do. We got spirit, how about you?" It was Ellen who suggested the cheer and it has stuck along with the pom poms and spirit team shirts.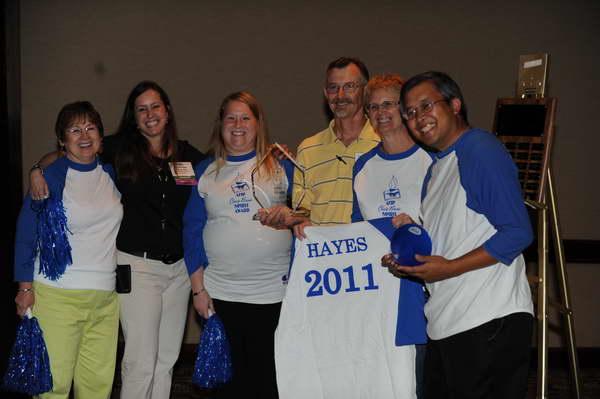 The 2011 seminar in San Diego was her final year attending as she had left Lexington and moved to California to live with her son and his wife, who had made Ellen a grandmother.
Ellen brought a lot of laughter and fun to every seminar from Lexington to Seattle, from Orlando to Saratoga, from New Orleans to San Diego. Her spirit was contagious and AHP is grateful to Stacy and to Ellen for the years she attended the AHP seminars.
---
The AHP Chris Brune Spirit Award was initiated in 2004 as a way of recognizing the efforts of members and staff other than the Board of Directors. The award was developed to encourage members to seek involvement in the association that would eventually lead to leadership roles. The recipient is an individual who has done the most consistently to assist and support the association. The Board of Directors selects the winner at its board meeting. In 2004, the inaugural award was presented to Chris Brune and the title became the AHP Chris Brune Spirit Award.
Posted in: