2019 AHP Champion Pat Trowbridge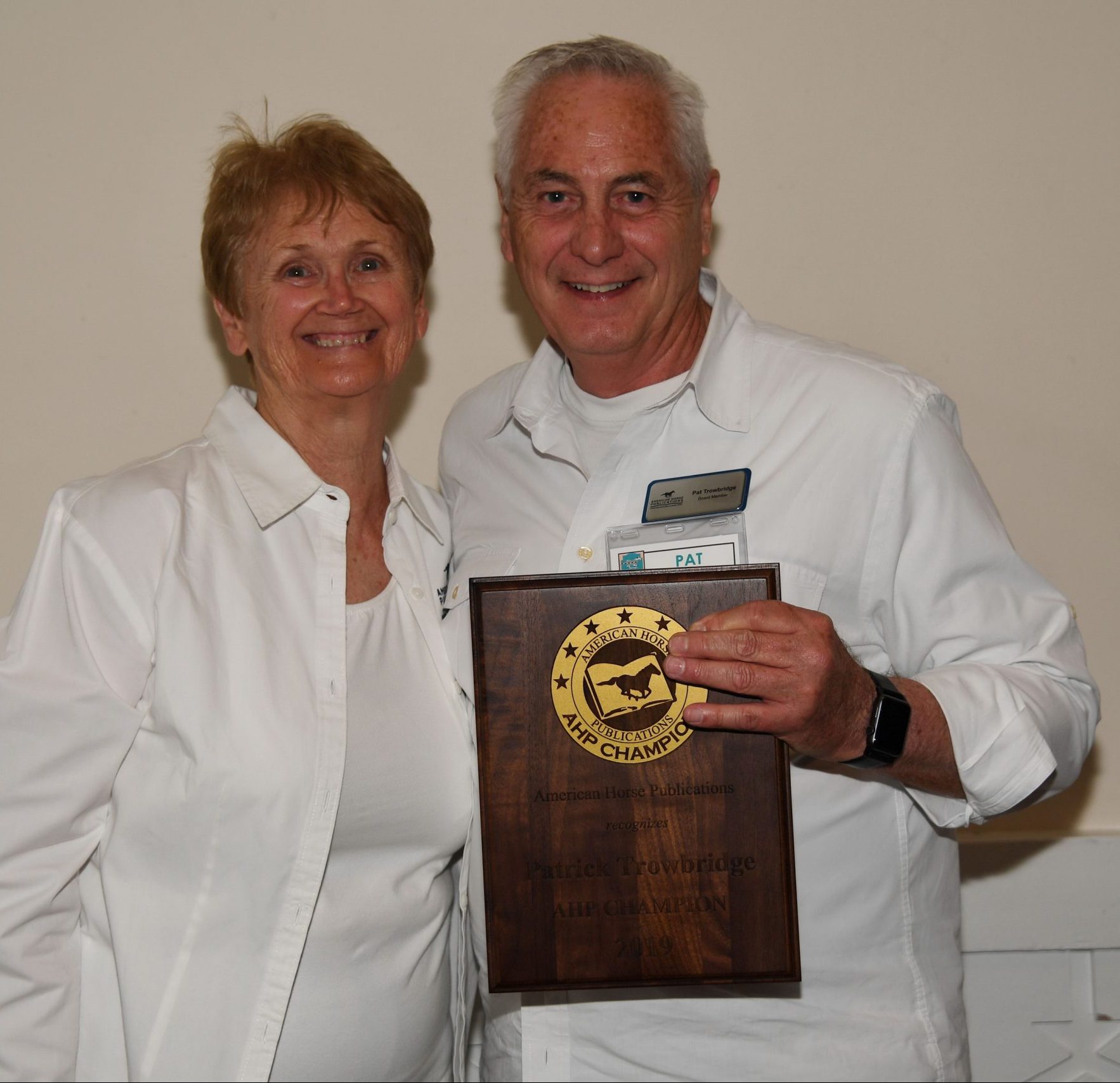 Two-time AHP President Pat Trowbridge was inducted into the AHP Circle of Champions in 2019 in Albuquerque, New Mexico.
No one can remember a time when Pat Trowbridge has not been on the AHP board. He first became involved with American Horse Publications in 1998. Four years later, he was elected to the Board of Directors. He served as the 2007-2008 AHP President and the 2015-2016, making him the fourth president to serve two terms.
Pat currently serves on the AHP board of directors as the Advisory Director, appointed by the president. He is the current chairman of Strategic Planning, Succession Plan, and Nominating Committees.
In 2012, Pat was honored as an AHP Chris Brune Spirit Award Winner, an award presented to a member who has done the most consistently to assist and support the association.
There are few members who don't know who Pat Trowbridge is or haven't had dinner or drinks with him. That's not only because of the publishing titles he's earned, but more for his enthusiasm for the horse publishing business, his willingness to assist wherever needed, and his friendliness to all.
"Pat has been such a great friend to AHP as well as me," says AHP Executive Director Chris Brune. "He is the voice of reason, your right hand, and so much fun. Ever since his first AHP meeting, Pat has jumped in to help wherever needed. He loves AHP and promotes the association wherever he goes. No one deserves the AHP Champion Award more than Pat."
Pat is the English Group Publisher at Active Interest Media. Prior to his current position, he has been associated with Lumina Media (formerly i-5 Publishing), publishers of Horse Illustrated, Young Rider, and HorseChannel.com and BowTie, Inc. where he began his publishing career in 1996.
He grew up riding horses on his family's small farm in Kansas. He resides in Southern California with his family and canine companion, Parker.
WATCH video presentation held May 31, 2019 during the AHP Equine Media Conference in Albuquerque, NM.
---
AHP Champion Award
In 2007, American Horse Publications created the AHP Champion Award which is presented to individuals who are instrumental in the development and growth of the association. Collectively, the winners are known as the AHP Circle of Champions. The recipients are selected by the AHP Board of Directors.
Posted in: