Alexander Mackay-Smith Named First Equine Industry Vision Award Winner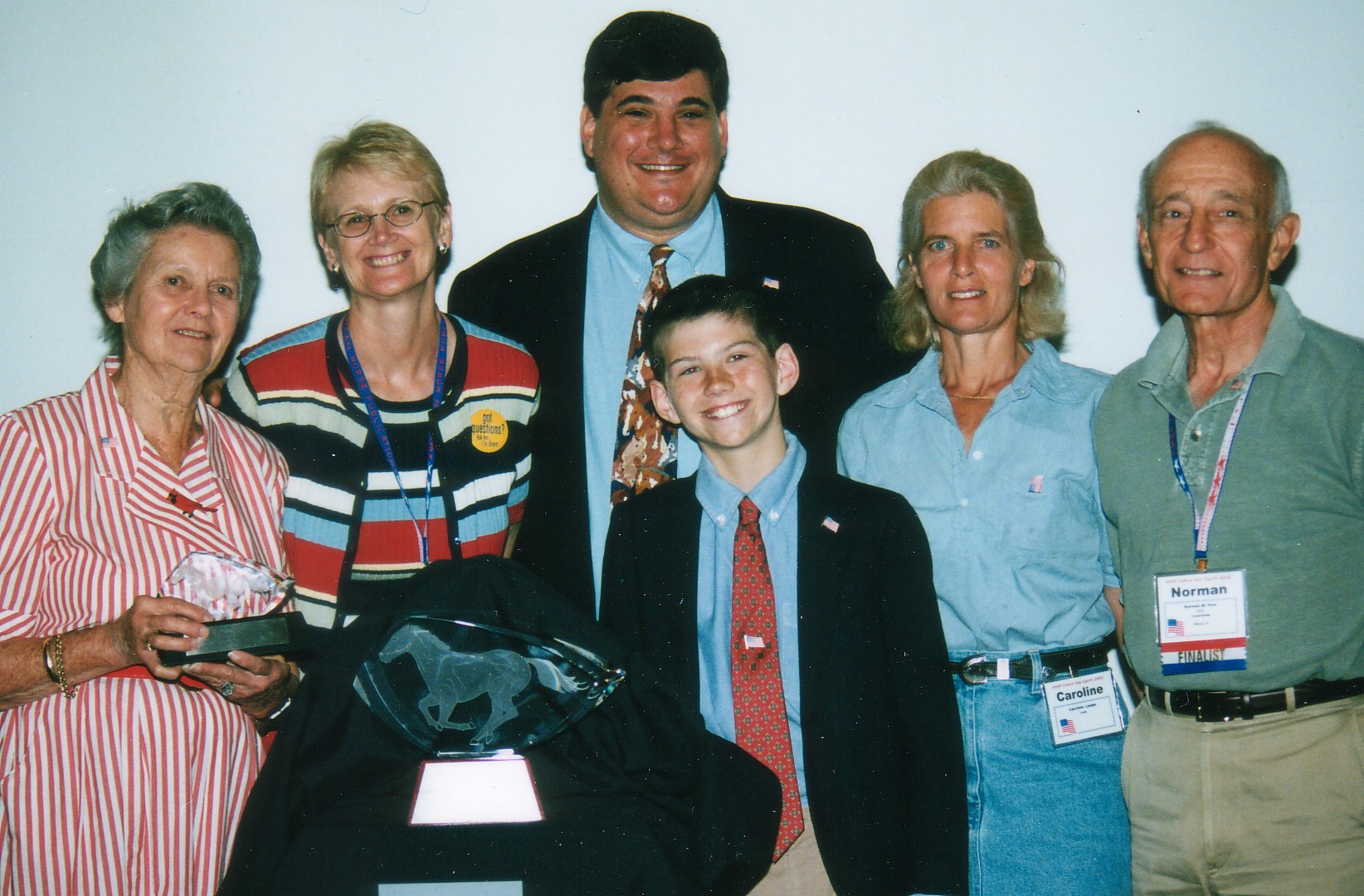 Indomitable, eclectic, kind and patient are just some of the words used to describe the unique character of Alexander Mackay-Smith (1903-1998). One of the most prolific writers on equine sports in the last century, Mackay-Smith is remembered as a visionary–able not only to conceive of ideas but also to bring them to fruition.
Today, at the annual meeting of American Horse Publications in Park City, UT, Mackay-Smith's broad contributions to the whole of the equine industry were recognized. His widow, Mrs. Marilyn Mackay-Smith, accepted on his family's behalf the inaugural Equine Industry Vision Award–created to showcase innovation, ingenuity and service throughout the horse world and presented by Pfizer Animal Health and American Horse Publications.
In tribute to her late husband's accomplishments, Mrs. Mackay-Smith received the Equine Industry Vision Award Perpetual Trophy, created in full lead crystal by master artisan Peter Wayne Yenawine and commissioned by Pfizer Animal Health. Yenawine has created gifts of state for the past four White House administrations.
Mackay-Smith's influence continues today not only in his books, but in the organizations that he helped found and that are still flourishing. The list includes the United States Pony Club, the North American Riding for the Handicapped Association, the United States Combined Training Association, the National Sporting Library, the Cleveland Bay Society, the Morven Park International Equestrian Institute, the Virginia Thoroughbred Association, the American Remount Association, the Clarke County Historical Association and the American Academy of Equine Artists.
"We are very, very proud that Alex was selected to win this award and it is certainly well deserved," said Mrs. Mackay-Smith. "But he never did any of this for notoriety. His interests were genuine and when he saw a need for something, he had a gift in the ability to make it happen," she continued.
Alexander Mackay-Smith did not come from a horse-oriented background. He grew up on the East Side of Manhattan and graduated from Harvard College and then Harvard Law School cum laude. He worked for President Franklin Roosevelt and set up the legal framework of the Federal low-cost housing program during his legal career. He was also intensely interested in music and art, serving as the president of the Harvard Glee Club during school and studying the violin for a year in Paris.
At the age of 29 Mackay-Smith attended his first foxhunt and his love affair with the sport was instilled. He went on to serve as Master of Foxhounds for the Blue Ridge Hunt and the Rock Hill Hounds, Director for Virginia of the Masters of Foxhounds Association and he wrote eleven books on subjects including foxhunting, racing and sporting art. His last book, Speed and the Thoroughbred Racehorse, took more than ten years to complete and is considered a watershed piece on the subject. Though his body was failing him in his last years, his work on this research kept Mackay-Smith going. He continued to write the book, in long hand, even after his eyesight failed and his breathing deteriorated.
Mr. Norman Fine nominated Mackay-Smith for the prestigious Equine Industry Vision Award. Fine is the creator and editor of Covertside, a publication of the Masters of Foxhounds Association. He has called Mackay-Smith "an inspiration for all who would be productive in this life."
"I knew him in the last twelve years of his life and he was an inspiration to me. No matter what obstacles got in his way, he never stopped and he never complained," Mr. Fine said. "I can't think of anyone who has had a broader impact on so many aspects of equine sport–riding, literature, art, music, history and the organizations that guide it. And he was always generous with his scholarship and his knowledge. He was genuinely interested in and complimentary to other people as well. He made them feel like their knowledge was astounding, like they were special."
"The Equine Industry Vision Award was created to celebrate our future by showcasing those whose vision and success provide the inspiration for all of us to realize our combined potentials. Their influence today makes us what we will be tomorrow," said Dan Kramer, equine market manager at Pfizer Animal Health. "Alexander Mackay-Smith will always share his gifts of leadership and inspiration with us as his visions continue to profoundly shape the horse industry today. Although Alexander is deceased, his spirit and contribution are very much alive and well deserving of this recognition."
The other finalists for this year's Equine Industry Vision Award included Don Burt, Stanley F. Bergstein, Matthew Mackay-Smith (son of Alexander Mackay-Smith), the Piedmont Environmental Council and Robert Vavra.
Posted in: