Patti Colbert, PCE Enterprises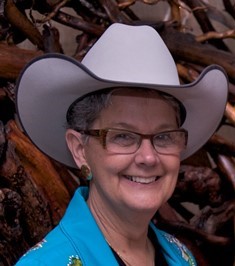 Tally Ho at the Alamo Seminar, 2015, San Antonio, Texas
PATTI COLBERT is a "hands-on" promoter for the horse industry.  From starting at the age of nine with a paint pony to management of large equine facilities and organizations, she has "done it all."
During the 1970's and 80's, she owned and operated a small boarding and lesson facility, handled the marketing and sale productions for Glenn and J. D. Neans, and managed large equine events at the Texas Heritage and Expo Center in Austin, including the PRCA rodeos and horse shows.
Her career in management continued with her position as Executive Director of the Texas Quarter Horse Association until 1996, during which time she was also Publisher/Editor of Arena Sports News from 1989 to 1991.
In 1998, Colbert accepted the position as Senior Director of Development for the American Quarter Horse Foundation and its charitable programs including scholarship, equine research and educational outreach.  During her six years at AQHA, Patti raised millions of dollars for the American Quarter Horse Foundation.
In 2004, she started her own consulting firm, Patti Colbert Enterprises, with her daughter, Weslie Elliott.  She created and launched the Extreme Mustang Makeover events and other Mustang training programs which have led to the adoption of close to 5,000 wild horses. Other clients have included the Mustang Heritage Foundation, Texas A&M University, American Quarter Horse Association, SimDesk Technologies, among others.
Colbert has served on boards of the National Cowgirl Hall of Fame, American Quarter Horse Association, American Stock Horse Association, and other youth and agriculture related organizations.  In 2011, she was the recipient of the National Cowgirl Hall of Fame's Fern Sawyer Award recognizing her support of the museum and western heritage.
In 2014, Colbert was recognized for her numerous important contributions to the equine industry with the Equine Industry Vision Award presented by American Horse Publications and sponsored by Zoetis.
Colbert lives on a 250 acre ranch in the Texas Hill Country where she operates a recreational riding facility which she defines as "Dude for a Day." They ride more than 3,000 guests annually.
Currently, she is focusing her marketing efforts on "Time to Ride," an initiative of the American Horse Council's marketing alliance, formed to connect people with horses and designed to encourage horse-interested consumers to enjoy the benefits of horse activities.
Anyone who listened to her keynote address in Colorado Springs or last year's session in Charleston remembers what a dynamic and motivating speaker she is. We have invited her back to discuss how members can engage new horse enthusiasts beyond traditional media to grow their audiences and the horse industry.
Posted in: