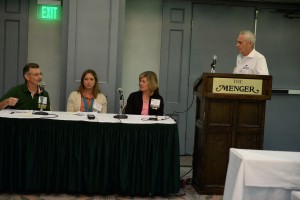 The 45 ideas panel is one of the most popular sessions that AHP has offered over the years at its annual seminar. These sessions demonstrate the collaboration among members to share their knowledge and expertise with their peers. The 2015 session titled "Business Etiquette 101" was presented at the AHP Tally-Ho at the Alamo in San Antonio, Texas.
MODERATOR
Pat Trowbridge, Vice President and Group Publisher – Equine & Agrarian Titles for   i-5 Publishing, publisher of Horse Illustrated, Young Rider, Hobby Farms and HorseChannel.com.
PANELISTS
Doug Hayes is the AQHA Manager of Business Development and is working on his 34th year with the American Quarter Horse Association.

Jaci Hoffmann joined MediaRadar in 2010 after spending over six years in the publishing industry with Gannett Company, Inc – US Community Publishing Division. At MediaRadar, she leads the Marketing and Public Relations team.

Molly O'Brien is the Marketing Communications Manager for W. F. Young, Inc./Absorbine, where her role includes media planning and buying.
This year's member panel provides tips for communicating and making a good impression. Their advice and suggestions cover situations from making confident cold calls to advertising prospects or publishing media editors to professional etiquette at trade shows, events, and sales meetings.
45 Ideas-Business Etiquette 101  [DOWNLOAD 2015, pdf, 271KB]