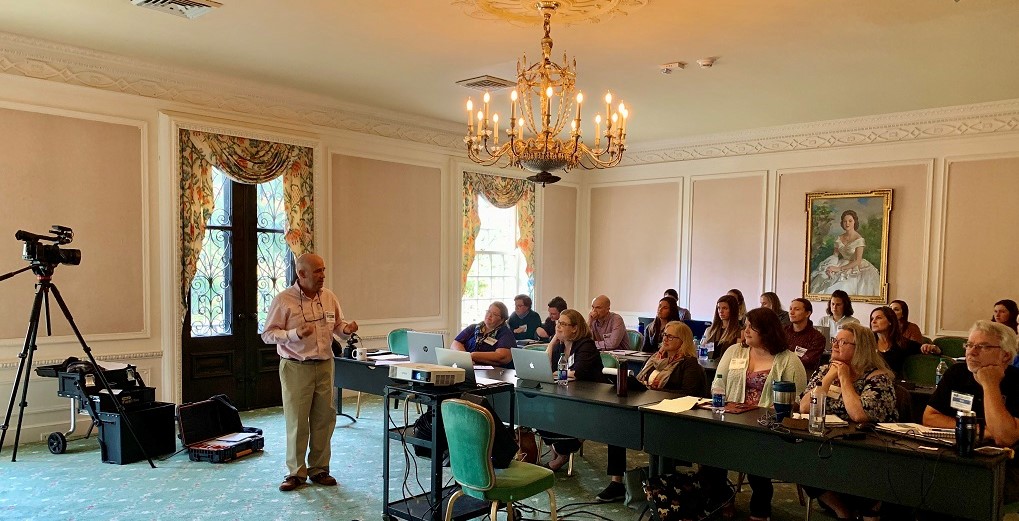 Visual Storytelling and Takeaway Tips Made the AHP Regional Workshop a Hit with Attendees
"It's all about telling a story. High tech and super quality are secondary." Scott Moore
The 23 attendees at AHP's second regional workshop in Lexington arrived early at The Club at UK's Spindletop Hall on October 7, prepared for a full day of learning and advice from award-winning professional videographer Scott Moore.
The list of topics on the schedule covered everything from basic video equipment to production tips, and examples of Moore's style of visual storytelling. His passion for his craft and sharing knowledge with others are the reasons he has conducted seminars on videography for both beginners and professionals, and his audience of AHP members included both.
"If you know everything about what I'm shooting, I want to entertain you. If you don't know anything about it, I want to educate you," says Moore.
"I think giving people some skills to feel that they can jump into something they might not have tried is one of the best things a workshop like this can do, along with answering technical questions for more experienced folks to help them solve an issue they've been having–and this workshop seemed to do both," says Glenye Oakford, Senior Content Editor, US Equestrian. She was joined by her husband Christopher Oakford, a freelance writer and Individual member.
Moore encouraged attendees to take notes, ask lots of questions, and be prepared to have fun. And that is exactly how it came down.
"I really enjoyed Scott Moore's knowledgeable expertise in all aspects of videography," says Anett Mindermann, Owner, Equestrian Lifestyle Photography. "I took lots of notes and created my own to-do list!"
Mindermann wasn't the only one taking notes. Erin Hsu, Marketing Director at Kentucky Equine Research, not only took copious notes, she is also sharing them with AHP members. "This was the single most USEFUL session I've attended at an AHP event," says Hsu. "I was able to put his tips into practice the very next day."
As for delivering fun, Moore's entertaining video "Hillbilly Houseboat" on the Moron Brothers of Kentucky had the audience laughing at the banter and talent of this popular Bluegrass duo.
"I enjoyed looking at Scott Moore's work," says Ruby Tevis, Student Member and the 2019 AHP Travel Award Winner. "The atmosphere was light, friendly, and fun."
CLICK HERE to download Erin's Cliff Notes on Video Best Practices for Equine Brands & Media [PDF]
CLICK HERE to download Allison Rehnborg's 10 Takeaway Tips from Visual Storyteller, Scott Moore [PDF]
READ MORE ABOUT WHAT ATTENDEES LIKED THE MOST ABOUT THE 2019 LEXINGTON WORKSHOP
About the AHP Regional Workshop
An AHP Regional Workshop is a one day event held in regional areas where there is a concentration of AHP members. The purpose for the workshop is both educational and networking. The workshop provides an opportunity to zero in on a specific topic of interest to AHP members and their staff as well provide continuing education during the year on a regional basis The workshop also gathers professional equine media with a to network with regional members of AHP. For information on the AHP Regional Workshop and upcoming events, contact Judy Lincoln, Regional Workshop Coordinator at ahorsepubs2@aol.com.