The Hunt for Excellence is Complete and the Finalists Named in the AHP Equine Media Awards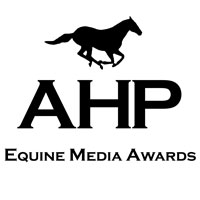 Learn who is going for EMA Gold in 2018
The announcement of award finalists ends two-months of anticipation for the 75 AHP members who have learned they placed in the top five in one or more of 64 classes in the 2018 AHP Equine Media Awards (EMA). 
Held since 1974, the American Horse Publications (AHP) annual awards contest offers members an opportunity to be recognized for excellence in a variety of equine media categories. This year's competition for material published in 2017 drew 823 entries from 108 members, an increase in 40 entries and 3 participants from last year.
The Equine Media Awards, open to AHP members only, offer a Publishing Media Division for print or online publications and freelancers as well as a Business division for equine-related businesses, nonprofit organizations, and colleges.
The awards competition recognizes excellence in equine media as well as provides entrants with a constructive comment on every entry. "We work with a pool of industry professionals who judge the contest," says Chris Brune, AHP Executive Director and EMA Coordinator. "We add new judges and switch the classes around every year. Overall, our judge team enjoys this project especially the horse owners in the group." A comment from one of the 28 judges sums up the opinion of the others. "What a competitive group this year!"
The next milestone on the road to EMA Gold is the announcement of the winners. Awards are placed first, second, third, or honorable mention based on the number of entries in the class. Every finalist is recognized for their achievement. The Equine Media Awards presentation will be held on Saturday evening, June 16, 2018, at the Delta Hotels Baltimore Hunt Valley during the AHP "The Hunt for Excellence" Equine Media Conference in Hunt Valley, Maryland.
Members interested in attending the AHP Equine Media Conference & Awards in Hunt Valley can access conference information and register online at https://www.americanhorsepubs.org/attending-ahp-annual-conference/.
The results of the Equine Media Awards will be available on the AHP website after the awards presentation in June.
Who will earn EMA gold in Hunt Valley? Here is the list of AHP members who are Equine Media Award finalists for 2018. Congratulations! 
PUBLISHING MEDIA DIVISION FINALISTS
Publishing Media Members
American Farriers Journal
American Racehorse
America's Horse
Arabian Horse Life
Barrel Horse News
BloodHorse
Canadian Horse Journal
Chrome
Daily Racing Form
Dressage Today
Driving Digest
EquiManagement
Equine Journal
EQUUS
Horse Radio Network
Keeneland Magazine
Mid-Atlantic Thoroughbred
New Bridge Polo
New York Horse
NRHA Reiner
Off-Track Thoroughbred Magazine
Paint Horse Journal
PATH Intl. Strides
Paulick Report
Performance Horse Journal
Practical Horseman
Quarter Horse News
Ranch Horse Journal
Sidelines Magazine
Speedhorse
The American Quarter Horse Journal
The Chronicle of the Horse
The Horse: Your Guide To Equine Health Care
The Team Roping Journal
Thoroughbred Daily News
Untacked
US Equestrian
USDF Connection
USHJA In Stride
Washington Thoroughbred
Western Horseman Magazine
XBTV
Individual Members
Megan Arszman
Abigail Boatwright
Melinda Brown
Jennifer Bryant
Kate Bradley Byars
Natalie DeFee Mendik
Tracy Gantz
Jessie Haas
Douglas Lees
Bianca McCarty
Eliza McGraw
Heidi Melocco
Katie Navarra
Shelley Paulson
Patti Schofler
L.A. Sokolowski
Lisa Wysocky
BUSINESS DIVISION FINALISTS
AIM Equine Network
Boehringer Ingelheim
Central Garden & Pet
Downunder Horsemanship
E-Squared Magazine Media
Freedom Health
Grand Slam Social
MannaPro Products
Monty Roberts JOIN UP International
National Reining Horse Association
National Sporting Library & Museum
PM Advertising
Purina Animal Nutrition
Road to the Horse
SmartPak Equine
UK Ag Equine Program
-30-
American Horse Publications has united equine-related publishing media, businesses, professionals, colleges, and students for nearly 50 years. The non-profit professional association promotes excellence in equine publishing media and encourages relationships and communication within the horse industry. For more information, visit www.americanhorsepubs.org.
Contact: Christine Brune
Phone: (386) 760-7743
Email: AHorsePubs@aol.com
Posted in: