2017 AHP Champion Dean Hoffman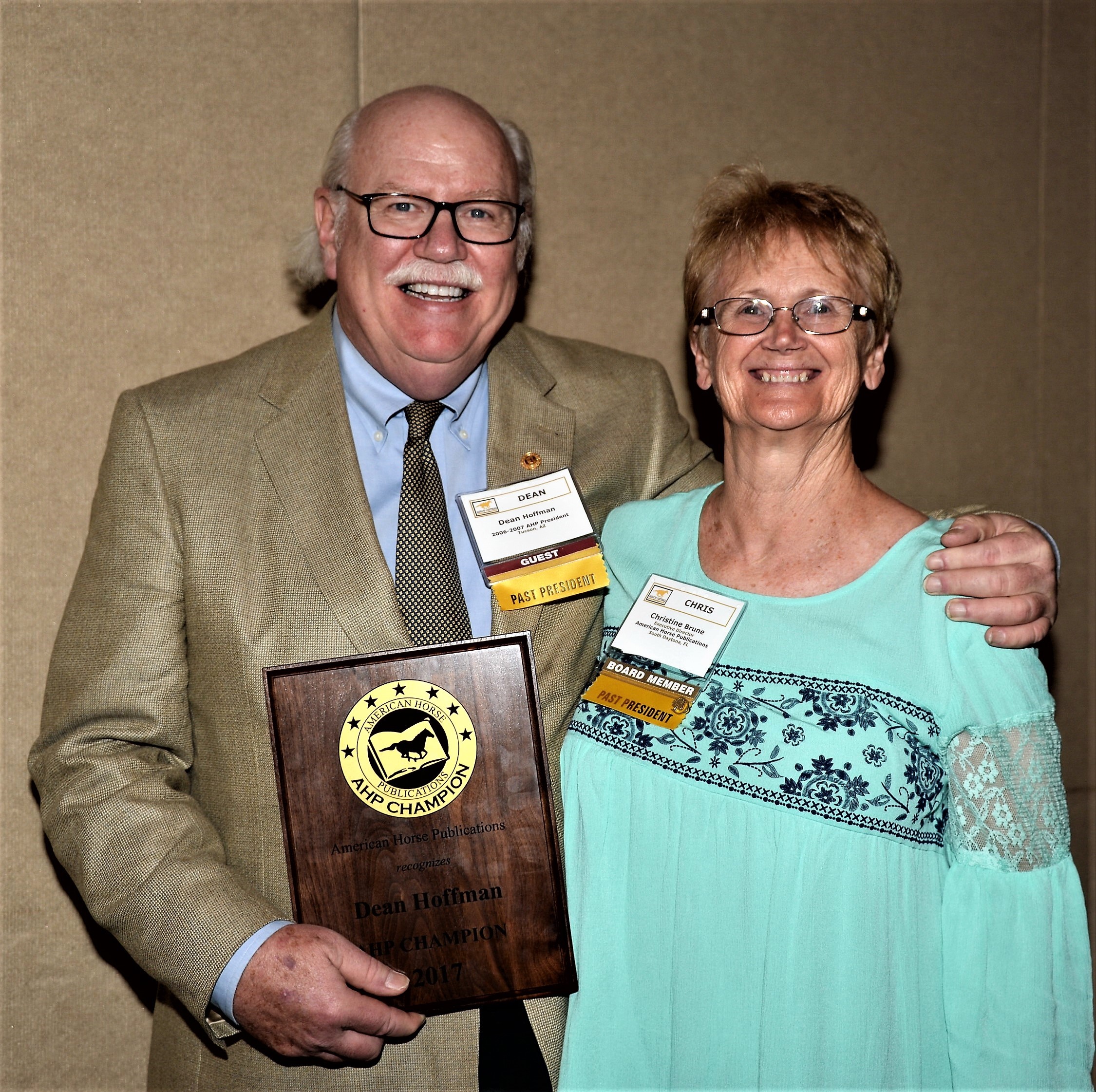 Dean Hoffman was honored as the 2017 AHP Champion during the AHP Equine Media Conference in Scottsdale, Arizona.
Hoffman was elected to the American Horse Publications board in 1995 serving nine years as a Director until moving onto the Executive Board in 2004.
Two years later, he became the 2006-2007 AHP President and completed his term as Immediate Past President in 2008. He served a total of 15 years on the board.
A native of Cincinnati, Ohio, Hoffman is a 1971 cum laude graduate of Ohio University with a degree in journalism.
He worked in public relations and advertising agencies in varying capacities before being named Executive Editor of the United States Trotting Association's monthly magazine, Hoof Beats, in 1981. He held that position for almost 25 years, longer than any previous editor.
In 2005, Hoffman was appointed USTA Director of Planning and Senior Editor of Hoof Beats. That same year he launched the first harness racing blog entitled "Free Legged" on the USTA website.
In January 2014, he joined University of Arizona Race Track Industry Program in Tucson, Arizona as staff after many years as a guest lecturer.
He currently lives in Tucson with his wife, Linda. His two daughters, Meredith and Catherine, both grew up as "AHP kids" attending the seminars with their dad.
Hoffman is recognized as "One of the world's most respected authorities on harness racing." This recognition is supported by the list of awards and achievements that have been awarded him.
1999 Harness Horsemen International's Media Award.
2003 HTA's Dan Patch award two years ago "for his immense contributions to the literature of harness racing."
2005 winner of Harness Tracks of America's highest honor, the Stan Bergstein Messenger Award for contributions to the literature of harness racing.
2006 Pinnacle Award Winner, a prestigious award that recognizes and provides appreciation for exemplary efforts put forth by authors, members of the press and public relations professionals, in the promotion of the sport and The Harness Racing Museum & Hall of Fame.
2007 induction into the Harness Racing Hall of Fame's Communicator's Corner.
In 2017, Dean Hoffman added AHP Champion to the list of accolades for his contributions to the growth and pursuit of excellence in the equine publishing industry.
During the ceremony held on June 17, 2017 in Scottsdale, Arizona, Hoffman shared these words of wisdom on his experience and years as an AHP member:
I can honestly say that AHP is an organization that pays its members, not the other way around. Sure, members pay dues, but AHP pays its members back in ways that are far in excess of monetary dues.

AHP pays its members in increased professionalism and in practical ideas that you can put into place on the job. AHP pays its members in a network of professional contacts that a member can access for valuable advice on any subject relating to publishing.

AHP pays its members with access to the most respected experts in publishing at the seminars. It would cost members thousands of dollars to hire the expertise and experience of speakers that make presentations each year at AHP gatherings.

AHP pays its membership with a treasure trove of friends and fascinating experiences that members can carry with them for a lifetime.

DEAN HOFFMAN, 2017 AHP CHAMPION
Posted in: