2015 AHP Champion Connie Lechleitner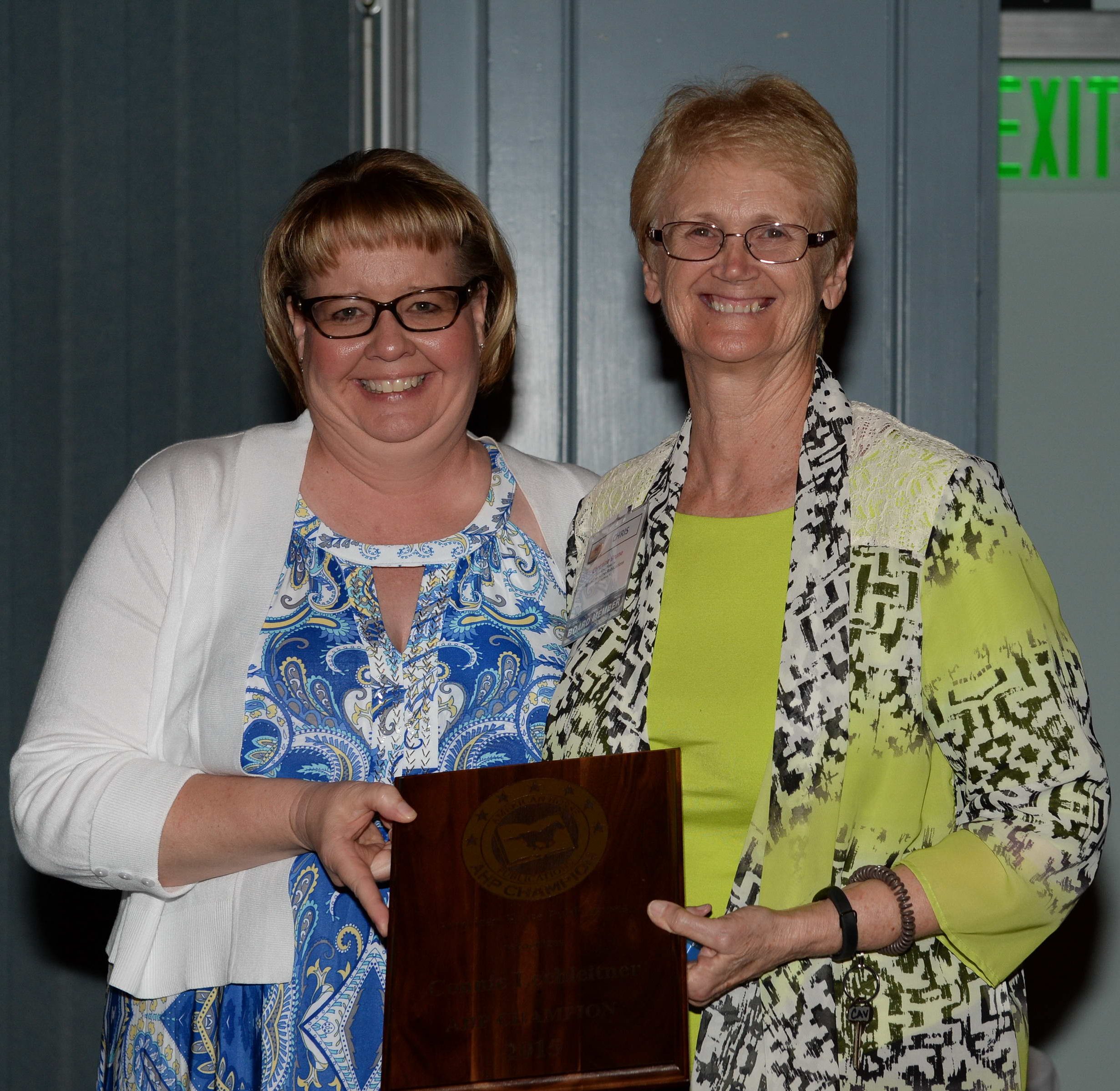 Connie Lechleitner was recognized for her distinguished service to American Horse Publications and inducted into the AHP Circle of Champions during the AHP annual seminar in San Antonio, Texas, on June 20, 2015.
What makes an AHP Champion? The answer is dedication, service, and passion to an association and industry that has left a huge impact on their lives and careers.
Connie Lechleitner discovered AHP at the American Horse Council meeting in Washington, DC. Despite being intimidated by the large number of AHC members and the imposingly formal setting at that first meeting, this quiet, shy Ohio girl, who was in her first year of her very first job working at the Ohio Quarter Horse Association took a deep breath, put her best foot forward, and walked into the meeting room.
Lechleitner remembers feeling such a kindred spirit with the other horse publication representatives who attended that year.
"Even though I was a one-woman staff on a small state association magazine, I was welcomed by everyone from the biggest players in equine publishing to the other one-person staffs just like me," she says.
For more than 20 years, Lechleitner served as editor of publications and website for the Ohio Quarter Horse Association. Her duties there included media relations and promotion of the world's largest single breed horse show, The All American Quarter Horse Congress.
She has also worked in communications and marketing departments in the accounting and healthcare industries, but her passion has always been with the equine community.
Currently, she serves as executive editor of the National Snaffle Bit Association's The Way To Go magazine and also provides social media and website content for NSBA. In addition, she owns Sharon Valley Communications, a freelance writing business, where she writes content for a number of equine and agricultural publications.
Lechleitner has always loved horses and continues to show horses today. She and her husband, Mark, raise registered Quarter Horse and Buckskin horses.
After becoming an AHP member in 1985, Lechleitner joined the AHP Board of Directors in 2000 and became AHP President for 2005-2006. She has recently served on the AHP board as a Past President Advisory Council Director.
"Connie and I were kindred spirits as both editors of Quarter Horse magazines," says Chris Brune, AHP Executive Director. "We share the same passion for AHP. Connie has been a contributing AHP member in so many ways, participating on multiple committees over the years. She was instrumental in developing the student mentoring program that AHP offered for several years. Her contributions to the association helped to shape the strong identity that AHP has today."
Lechleitner attended the annual seminar where she was presented her AHP Champion plaque at the awards banquet on June 20.
"I have met so many wonderful and talented individuals in our industry," says Lechleitner. "I was fortunate to work with many of them in board positions. It has been a wonderful experience to watch our association grow and thrive in spite of the changes and challenges in our publishing world, and to welcome the next generation of members into our family."
Posted in: