David Jones, DVM, Chairman of Brooke USA, Recognized and Celebrated for Global Equitarian Efforts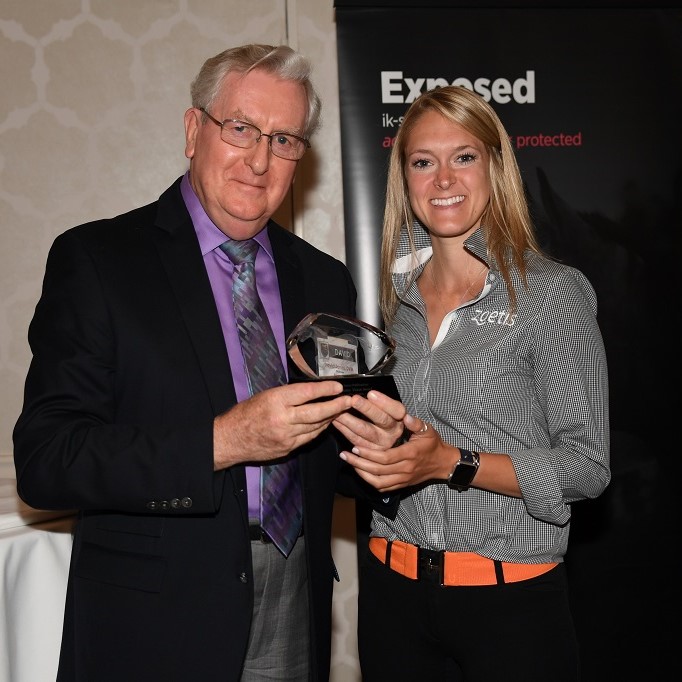 David Jones, DVM, chairman of Brooke USA, was named the recipient of the 2018 Equine Industry Vision Award. Zoetis, in partnership with American Horse Publications (AHP), presented the award to Dr. Jones during the AHP Equine Media Conference in Hunt Valley, Maryland. Zoetis established and sponsors the annual Equine Industry Vision Award, which showcases an individual or organization's innovation and commitment toward making positive impact on the equine industry.
"Zoetis is honored to present the Equine Industry Vision Award to Dr. Jones for his tenured work and dedication to improving the well-being of working horses, mules and donkeys across the globe," said Sally Amtmann, senior equine marketing manager with Zoetis. "Because of Dr. Jones' unrivaled dedication, these working animals can lead a better life and so can the many families who depend on them. At Zoetis, we strive to make a difference in the community and support organizations worldwide that share our commitment to bettering the lives of animals."
Dr. Jones became involved with Brooke nearly 50 years ago when, by request of the organization, he traveled to the Cairo Zoo to trim the hooves of a giraffe, as well as help contain rabid donkeys often found running at night within the most underprivileged areas of Cairo. He became Vice Chairman and then Chairman of Brooke, during a time which saw tremendous expansion of Brooke into other countries. In 2007, Dr. Jones established Brooke USA, sister charity of Brooke, which is now a major contributor for Brooke's international equine welfare programs. As chairman of Brooke USA, Dr. Jones is responsible for guiding the American fundraising efforts and directing those funds to the areas of greatest need among Brooke's global programs and others.
His efforts, and those of Brooke USA, extend beyond helping the animal community. Their compassion and education toward equine health and wellness benefits developing communities that rely on working animals, and so often experience unimaginable hardship and suffering.
"It's a very little-known fact that the world's poorest of people are still very dependent on working animals," Jones said. "One of the most effective ways to improve their welfare is to improve the lives of their animals."
One hundred million horses, donkeys and mules support 600 million of the world's people. Much of Jones' work has been dedicated to educating horse owners on care and management as it relates to the health and performance of their working animal.
"Typically, an equine owner's income is no more than $3 per day. You hear the same story coming through about making choices on who to feed – their donkey or their children – yet, these people are smiling, laughing and kids are running around. It's unforgettable; it didn't take much to be convinced to stay involved," Jones said when asked about his nearly 50-year volunteer tenure with Brooke.
Brooke was founded more than 80 years ago, when Dorothy Brooke arrived in Cairo with her husband, British cavalry officer, Brigadier Geoffrey Brooke. Soon after her arrival to the city, Brooke witnessed injustice to thousands of British World War I war horses that were left behind. She immediately established efforts to rescue all 5,000 former war horses and founded the first of Brooke's free veterinary clinics, The Old War Horse Memorial Hospital.
Today, as the world's largest equine charity, Brooke is represented by more than 1,000 staff members across 11 countries, providing free veterinary care through static and mobile veterinary clinics throughout cities and remote villages to better the lives of working horses and, in turn, the families supported by them.
Posted in: