Stanley F. Bergstein Honored with 2006 Equine Industry Vision Award for his Influence in the Harness Horse Industry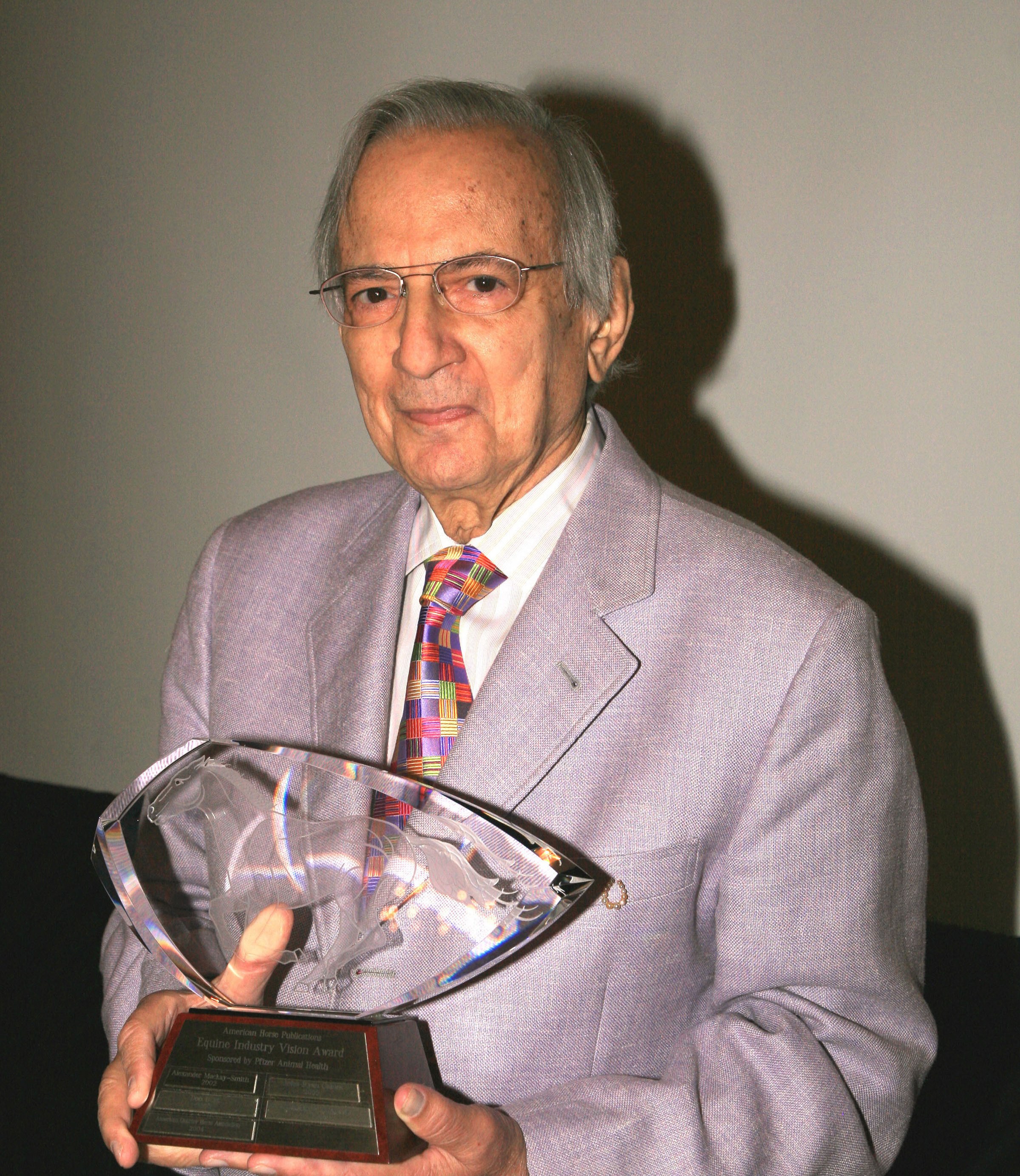 Pfizer Animal Health and American Horse Publications (AHP) presented Stanley F. Bergstein with this year's Equine Industry Vision Award at a ceremonial breakfast held during the AHP annual seminar in Orlando, FL. Established in 2002, the Equine Industry Vision Award was the first of its kind to showcase innovation and recognize ingenuity and service across the entire equine market.
As a yearly finalist since the award's creation, Bergstein earned this honor for his positive contributions to the Standardbred racing industry and lifetime of accomplishments. Known primarily as the Executive Vice President of Harness Tracks of America (HTA), a position he has held for over four decades, Bergstein is a true leader and visionary who is recognized and respected throughout the equine world.
"Stanley Bergstein is a prime example of the innovative spirit and industry leadership that the Equine Industry Vision Award serves to recognize," said Kristin Ruff, Equine Products Manager for Pfizer Animal Health. "His endless dedication and insight have helped shape the equine world, particularly the harness racing industry, and will continue to do so."
Bergstein's influence on the harness racing community has been both broad and diverse. For example, in 1970 he led the way in establishing the first competition among leading harness drivers from around the world – The World Driving Championship. As a corollary to this event, he also created and promoted a junior driving championship to allow aspiring harness drivers to showcase their talents. In addition, Bergstein was influential in organizing the Harness Publicists Association (HPA) in 1966, which allows publicists from harness tracks across North America to meet and exchange ideas on a regular basis. For his work in HPA, he was selected as the first recipient of the "Golden Pen" award, the association's highest honor.
As a native of Pottstown, PA, Bergstein got his first exposure to horse racing at the county fair level. Then, while attending Northwestern University, he was offered the first television internship ever created by Northwestern's Medill School of Journalism. This opened up a world of possibilities and gave him the chance to work in a whole new medium.
In the late 1940s, Bergstein began announcing races at Chicago tracks and soon moved up to the position of race secretary. During his tenure in Chicago, he introduced claiming races – a horse race in which the owner declares prior to the race at what price the horse will be available for sale after the race. At that time this method of classifying races had not been accepted in harness racing, but Bergstein had the foresight to see that claiming races could be an integral part of the sport. Eventually, they became accepted and, a half-century later, make up the majority of races in the sport.
In 1961 Bergstein accepted the position of Executive Vice President of Harness Tracks of America (HTA), a post that he still holds today. He built the organization from 17 members to a high of 50 member tracks throughout the United States and Canada.
Bergstein is also an author, auctioneer, historian, and book and art collector. In 1968 he became the Executive Editor of Hoof Beats magazine, which he completely redesigned and modernized. Then, in 1970, he took his service and leadership abilities to new heights by becoming the second president of American Horse Publications.
Bergstein was also a key figure in the development of the HTA Art Auction in the 1970's, to encourage artists to depict Standardbred scenes and provide opportunities for art collectors. All proceeds from this auction benefit the HTA Scholarship program and it has become a popular event each fall in Lexington, attracting artists and buyers from around the world. In addition, Bergstein started the American Harness Racing Secretaries organization, the John Harvey Journalism Award and the Harness Racing Hotline. He is also the only person to have ever been named to both harness racing's Hall of Fame and its Writer's Hall of Fame.
"If one trait has characterized Bergstein's many years of service to the horse industry, it's his ability to recognize challenges and opportunities, and devise innovative solutions," said Dean Hoffman, senior editor of Hoof Beats magazine. "He is truly a man of great vision."
The other finalists for this year's Equine Industry Vision Award included Matthew Mackay-Smith, DVM, G. Marvin Beeman, DVM, David O'Connor, LSU Equine Health Studies Program and Charlotte Brailey Kneeland.
Posted in: